Women
Spencer relishing responsibility at West Ham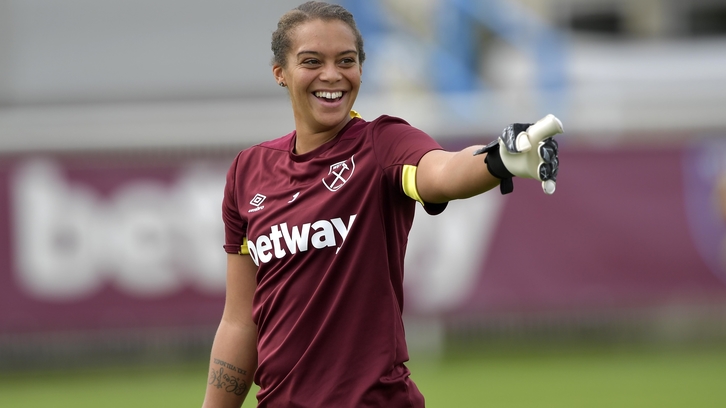 Invariably, without fail, Becky Spencer will be one of the first West Ham United players out for the pre-match warm-up or training. 
The goalkeeper, usually alongside fellow shot-stopper Anna Moorhouse and coach Glen Johnson, will be on the pitch running through her drills and her routine, in preparation of the next big test. 
Whereas ten outfield players can take to the field for the start of any game, Spencer knows being between the sticks is unlike any other role on the pitch. There can be only one goalkeeper. Both Spencer and Moorhouse know it. 
"You can't have a day when you're not training well or improving," the 27-year-old said. "It's always important to have healthy competition, and Anna and I bounce off each other really well. 
"Although we're fighting for the starting place, we want each other to do really well and we always encourage each other. We have a good relationship, but it's difficult because we're fighting for one spot. 
"You want to play every game and I think both Anna and I have lacked that opportunity in the last couple of seasons. We've both joined West Ham and we both want to play, so we both have to do our absolute best or we risk losing our spot."
It's always important to have healthy competition, and Anna and I bounce off each other really well. 

Becky Spencer
Spencer's journey to the first team at West Ham began at just eight-years-old, supporting her trio of sisters as they took their own footsteps into football. 
It was spending time with her siblings that led Spencer to the pitch, and eventually the goalmouth. 
She explained: "I have three sisters and a brother – I'm the youngest of five -  and they all played football when we were younger. 
"My journey started because of them. All three of my sisters played football for Watford back in the 1990s, and I used to follow them around and be a mascot for the side. That was my introduction into football. Watford was the first team I played for as well. 
"At that point, I wasn't a goalkeeper. I got put in between the sticks once, and I enjoyed it, and then I got picked up with Arsenal at about eight as a goalkeeper. That's when I started my career properly."
Having begun to make a name for herself between the sticks, Spencer's first hero in goal brought flair and energy to the game while wearing the gloves, expressing his personality while keeping clean-sheets.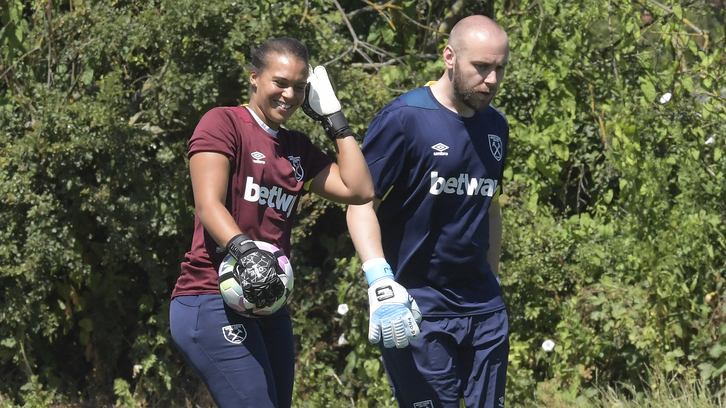 She added: "My goalkeeping idol was Santiago Canizares, who was at Valencia when I was growing up. I liked his style. He was the first 'keeper I'd seen who was a bit wacky and had some flair. He was a good character and I think everyone noticed him when he was playing. I liked that."
The West Ham shot-stopper certainly has learned from Canizares when it comes to showing personality. Spencer can frequently be heard asking to play outfield during training sessions, and loves to show off her own ability with the ball. 
That willingness, according to the player herself, comes from the fantastic atmosphere within the West Ham group. 
"Every now and then I like to go up front!" Spencer laughed. "There are times when I've actually asked in training to do that. Sometimes there's a bit of envy when things are changed around and players are allowed to try different roles, because as goalkeepers we tend to stay in our role. 
"The only time I really get to show my outfield ability is when we do possession-based drills. We don't get much opportunities but when we do we try to give it a go.
We have a really good group of girls here and we get on really well. We enjoy each other's company off the pitch and we all work hard for each other on it. It's good to have a laugh together and we're all enjoying this journey."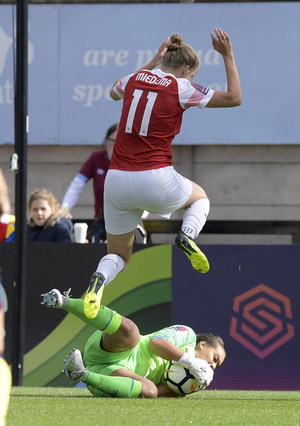 It is clear to see Spencer is relishing the competition for the starting berth at West Ham. Having joined the Irons from Chelsea FC Women, the goalkeeper admitted the thought of a new challenge and a fresh adventure was too appealing to turn down. 
"I'm at the age now where I need to be playing on a weekly basis," Spencer continued. "I'm not saying a move to West Ham was any guarantee of that but I felt like it was my best opportunity to move and try to get that. 
"It's a completely fresh start here. It's a new challenge for everyone involved. I've been fortunate enough to be involved in some successful teams in my career – Arsenal, Birmingham City and Chelsea – but I think coming to a club a new project was being started was something I needed. 
"I'm loving being here, and I want to take this opportunity by the scruff of the neck and give it everything I've got."
Spencer's adventure in football so far has seen the shot-stopper win titles, play abroad, and earn success at an international level. The No1's first taste of silverware came in 2009, when Spencer was a part of the England U19s team that won the European Championships in Belarus. 
It was an experience that will remain with Spencer for the rest of her life. 
"We had such a good team," she reflected fondly. "Gilly [Flaherty] was in it. We had the likes of Toni Duggan, Remi Allen and Jade Moore. These are all players who are now really big for their clubs and they play at the highest level. There was something special about that squad. 
"We had gone to Belarus with a purpose and we just had this really good feeling that we were going to win the whole thing. We never felt like we were going to lose, and we ended up not conceding a single goal in the tournament. It is something I will never forget."
With a World Cup next year in France, Spencer knows consistency for her club will determine if she gets a shot at the England squad in the near future. 
She added: "I broke back into the squad a couple of years ago but injury kind of halted that. I hope with some consistency and playing well I can get back on the radar. 
"I think, right now, I just need to focus on West Ham and do my best for the club first."