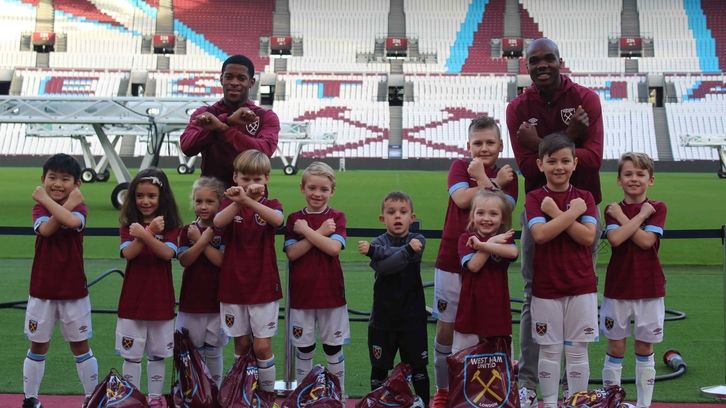 West Ham United Foundation and Havering Council have created a first of its kind partnership to educate children about healthy living. 
 
Veggie Run is the first Council-created app in England to educate children about healthy eating.
 
Ten pupils from Havering primary schools visited the London Stadium in their new Veggie Run printed West Ham United home kits, and met with the club's players Angelo Ogbonna and Xande Silva to officially launch the collaboration yesterday. 
 
Veggie Run has been downloaded more than 20,000 times since the app launched in April 2018 by the Council's HES Catering Service. 
Through digital gameplay, children are encouraged to dodge unhealthy foods and learn about the rewards of eating a healthy school catered lunch. Since launching, school catered meal uptake in the borough has increased by 14% within one academic term.
This first of its kind collaboration will see the Foundation deliver their 'Healthy Hammers' programme at more than half of the primary and junior schools in the borough, educating 2,400 children about the benefits of healthy living.
The Club's recently launched Players' Project will ensure that this programme gets the support it deserves. We look forward to seeing it grow and develop in the coming months. 

Joseph Lyons
 
Cabinet Member for Education, Children & Families and councillor Robert Benham said: "At a time when the country is facing a childhood obesity epidemic, it's great to see Havering at the forefront of innovation with Veggie Run and the West Ham United Foundation. 
"Creating council first  partnerships with a premiership football foundation supports our borough's proactive approach to educating children about the importance of healthy living"
 
Dr Marilena Korkodilos, London deputy director at Public Health England, said: "Veggie Run is a fun app to help children understand about healthy eating and directly rewards them with sports-based prizes.
"It is encouraging to see a local authority thinking innovatively about reducing child obesity and creating a tool that children can engage with."
 
Joseph Lyons, Chief Executive Officer at the West Ham United Foundation, said: "We are delighted to be partnering with Havering Council and supporting the Veggie Run app, a ground-breaking initiative that we believe will be of great benefit to schoolchildren in the heart of West Ham United's local community. 
"The Club's recently launched Players' Project will ensure that this programme gets the support it deserves. We look forward to seeing it grow and develop in the coming months, to make a real positive difference to the lives of schoolchildren throughout Havering."