The work West Ham United's Players' Project is doing is at the forefront of fighting key health issues across the London Borough of Newham and beyond. 
With World Diabetes Day falling on Wednesday 14 November, the Players' Project is highlighting the ground-breaking work done in Newham to help prevent Type 2 Diabetes.
High levels of deprivation and diversity are two of the leading reasons that Newham has an increasing prevalence of the disease, with one-in-eight people at risk of being diagnosed as Type 2 Diabetic in their life.
You just need to look after yourself in terms of doing different sports, and with the food, healthy food, we know how important it is today

Pablo Zabaleta
The 150Club is a GP referral programme that runs across Newham to help patients diagnosed with pre-diabetes and at high risk of developing cardiovascular disease. The programme is currently in its third year of running and has had over 250 people complete the scheme, which requires participants to engage in 150 minutes of physical activity each week.
The fight against diabetes was joined by Hammers stars Pablo Zabaleta and Fabian Balbuena as part of the new Players' Project, which sees every senior men's and women's player support one of eleven strands of community work.
"I was talking to the guests to convince them if they can do 20 minutes walking, 30 minutes in the park with your wife, your family, then it will help," said Zabaleta. "I know sometimes for people it's hard because they work so many hours, sometimes they feel tired and just want to go home, but at least if they can come here, do some exercise and see some players to talk to them, to inspire them and encourage them to do it twice a week, three times week it will be good for them.
"You just need to look after yourself in terms of doing different sports, and with the food, healthy food, we know how important it is today. And always to play football at the top level, you have to do that. If you want to enjoy a pizza with your friends or family once a week then that's not a problem, but always think about having healthy food every day to look after yourself, your family and everybody around you."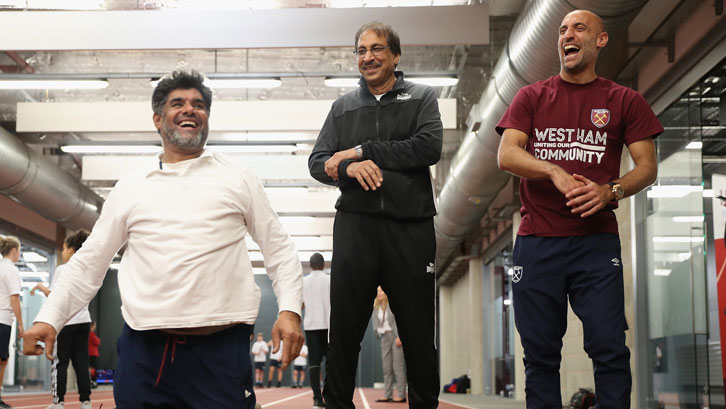 Newham is home to 27,409 individuals diagnosed with diabetes and a further 14,000-plus are considered at risk of developing diabetes or cardiovascular disease.
All 150Club activities are provided to participants completely free of charge, including the provision of personal lifestyle advisors to offer assistance, support and advice, which means the Foundation can tackle the health problems regardless of any deprivation issues.
The 150Club is not focused on weight loss, although this is a secondary benefit to reducing the risk of developing diabetes after the programme has been completed.
There are several providers of sessions for participants of the 150Club in addition to the West Ham United Foundation, including Newham African Caribbean Resource Centre, Newham Chinese Association, Active Newham, Food Academy, Bonny Downs and Tamil Sangam.
These groups provide a variety of exercises and educational services provided, to ensure that there really is an activity suitable for everybody, including the increasingly popular walking sports.
For more information about the 150Club and The Players' Project, click here.