Manuel Pellegrini says his West Ham United team's second half performance was much improved after a disappointing display in the first 45 at Huddersfield Town in Saturday's 1-1 draw.
The Hammers were up against it from the sixth-minute onwards, when Alex Pritchard found the back of the net from the edge of the box early on in the Premier League contest.
But, after creating few opportunities to equalise before the break, the Chilean's outfit came out fighting in the second period and looked a threat before Felipe Anderson grabbed his third goal in eight days with a quarter of an hour left on the clock.
And the Hammers so nearly travelled back down south with all three points in their pockets but for Aaron Mooy's late headed clearance from the goalline following Issa Diop's header, destined for the back of the net.
Pellegrini was pleased with his team's reaction after the restart, but was left frustrated nonetheless as his team travelled home with just a point.
He said: "I'm happy with the draw because we didn't play well. Most people will think that because we won that game before that it would be an easier game, but I said before that it wouldn't be an easy game – there are no easy games.
"All the games have a lot of intensity and Liverpool won here just 1-0. We looked at the way they play this week – every shot, every cross, every second ball is danger for them. In that sense, I think that after the goal, they did better.
In the second half, we improved and got some chances but not enough to win it.

Manuel Pellegrini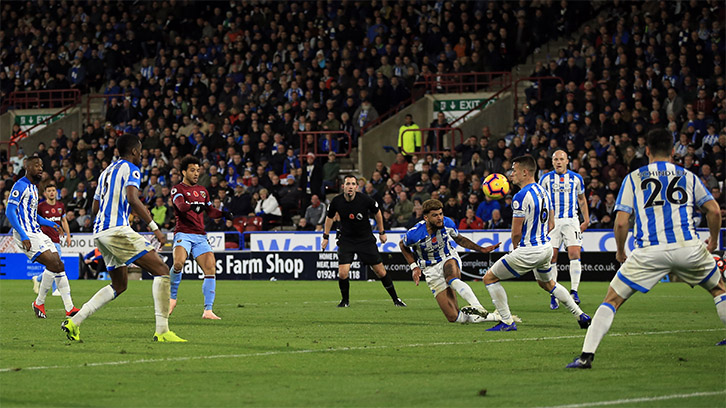 "In the second half, we improved and got some chances but not enough to win it.
"Because these games, the ones that maybe people are expecting you to win, are the most dangerous games. Maybe in the first half, they didn't believe that they were going to have in front of them, but they are a good team with a good style, a good intensity and are a good team. They play with pace and it's difficult. After their goal, we didn't create any chances."
Anderson followed up last weekend's superb performance in which he scored twice with a rocket of a leveller, firing in with his left foot after a number of blocks inside the Terriers' penalty area.
And the boss was delighted with the Brazilian's goal which ultimately secured the Hammers' point. 
"It was a beautiful goal," he reflected. "I don't like too much to analyse the individual performances. As a team, it was not the result we needed to get and not the result we expected to get maybe, but I think finishing like that, it was a good point.
"After the first half, when you don't find a way to score, you must try different things in different positions. We tried to make some changes and, as I said, at least we could draw. But we had another two very important chances after as well.
"We did improve in the second half, but we could not win."