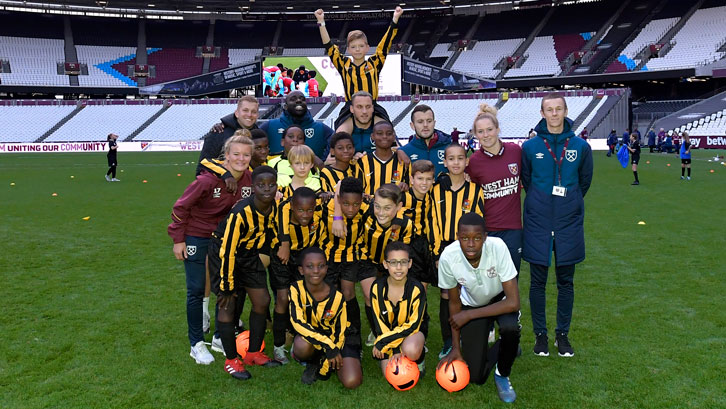 Marko Arnautovic knows first-hand the positive role football can play in keeping youngsters on the straight and narrow.
Growing up in the Austrian capital, Vienna, West Ham United's leading scorer saw a number of childhood friends and acquaintances succumb to the temptation of a life of crime.
But rather than fall into the same trap, with the support of his family, Arnautovic channelled all his energy into pursuing his dream of becoming a professional footballer.
Two decades on, the 29-year-old is a hero, a husband, father and an example to all those from similar backgrounds, as he explained at the launch of The Players' Project – the scheme that will see every member of the Hammers' men's and women's squads play their part in one of eleven strands of the club's wide-ranging community work.
Arnautovic, together with Jack Wilshere and women's team stars Esmee De Graaf and Lucienne Reichardt, took part in a Premier League Kicks session at London Stadium, championing a programme that uses the power of football to offer more than 450 young people from across east London a chance to develop their potential every week.
When I see the kids training hard and how they look up to us, it makes me feel happy and I just want to give advice to everyone to go the right way and to do that is important

Marko Arnautovic
"They put me in the right group because I think I am an example of this," said Arnautovic. "When I was little, I didn't always have the best time.
"I respect my family, I respect my mother and father as they always looked after me well, but I was the kind of kid who was not listening to them a lot!
"So, for me, after school was training and straight in the cage in the park playing football with my boys. For me, it was never the case to go out and to drink or meet some people and stay out until three or four o'clock. For me, it was always football.
"Those kids who love sport and want to one day be like we are, it's just for them to have fun, to listen to their parents and follow the route. It's not easy because all the kids want to be professional football players, some are very talented but they are not mentally strong or maybe have some injury issues. It all has to come together.
"This game we play is all about having fun and if, one day, your dream comes true and you become a professional football player, then that's the time you have to work hard."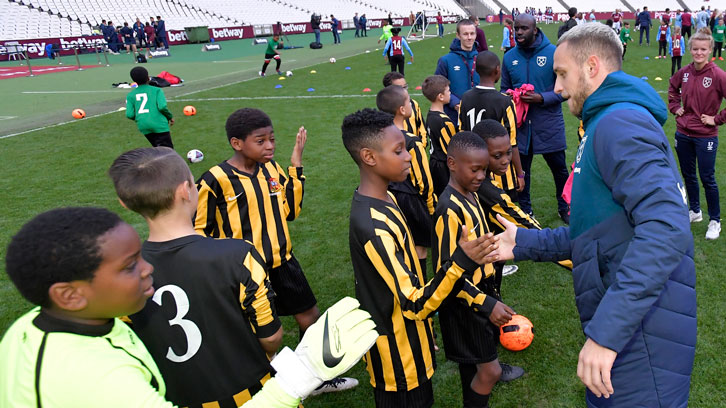 Hosted by Premier League clubs at nearly 800 venues nationwide, Kicks provides structured coaching sessions and mentorship for young people living in some of the most high-need areas of the UK.
The youth outreach programme is credited for engaging with more than 200,000 children since it was launched a decade ago, with West Ham's own scheme providing routes into education, training and employment to 11-19 year olds across Newham and Tower Hamlets.
Without it, Arnautovic fears some could have fallen into criminal ways, and praised the scheme for guiding the participants along the right path.
"I could have easily gone down the same road because it can happen to everyone," the forward revealed.
"Social media is also changing things. I see on Instagram people saying 'I want to have so much money, I want to have this, I want to have that' and then it starts with selling drugs and things like that. I think it shouldn't be the target to sell drugs and to go the bad way.
"That's why, when they don't see talent in themselves, they take that way because it is easier, but the punishment is hard, so you are playing with your life.
"When I see the kids training hard and how they look up to us, it makes me feel happy and I just want to give advice to everyone to go the right way and to do that is important.
"For me, the most important thing is to listen to advice."
For more information about West Ham United's Players' Project, click here.