It is one thing to overcome a life-threatening medical condition, but it is quite another to then raise thousands of pounds to fight the same disease while you are still at primary school.
That is exactly what brave West Ham United fan Ralphy Orsini has done.
Ralphy, from Dagenham, was taken seriously ill with liver failure at the age of two and was rushed to hospital for emergency treatment to prevent him falling into a diabetic coma.
Now seven, he is much better, but has never forgotten the charity which has played such a big role in helping return him to health.
I've had children's liver disease, so I wanted to thank you to everyone who helped me and help all the other brave kids

Ralphy Orsini
"Ralphy had never been ill, aside from the odd 24-hour virus, but one day when he was two-and-a-half I noticed the whites of his eyes were a little bit off-colour so it didn't sit well with me, so I took him to the doctor," his devoted mother Charlotte explained. "He said Ralphy needed to go to hospital straight away.
"We took him to Queen's Hospital in Romford and they diagnosed him with liver failure, as a virus he'd had when he was one had been attacking his liver for 18 months without him showing any outward signs until the jaundice started coming out in him.
"Ralphy had regular blood tests 24-hours-a-day and he really didn't like the needles and the drips, which was horrible, but had to be done as they were for his benefit.
"One night, the light went on and the room was full of doctors and nurses. Ralphy's blood sugar levels had dropped so low that he could have dropped into a coma, so I rubbed sugar and glucose gel into his gums.
"It was agreed he needed to be transferred to a specialist liver centre in Birmingham, but his sugar levels weren't stable enough for him to fly. Thankfully, a bed was made available for him at King's and we got blue-lighted all the way there!"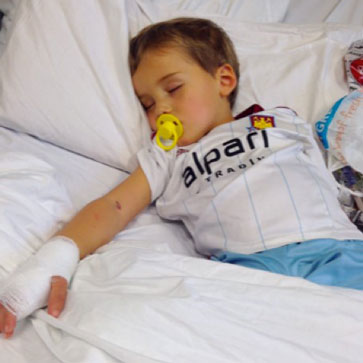 Ralphy spent a month at King's College Hospital's Paediatric Liver Centre in central London, with Charlotte his constant companion and father Ant visiting every day. There, his disease was diagnosed, his blood sugar levels were stabilised and his liver gradually started to repair itself.
"As soon as we got to the Rays of Sunshine Ward, everything on it was brand new," she said. "We were put into our own room. 
"They also had 3D glasses for Ralphy to wear while they put the cannulas into his veins, and the videos of aquariums gave him something else to watch and concentrate on, which made things so much easier. We were finally able to have a full night's sleep. It was amazing!
"The medical staff were keen to do a liver biopsy to work out which one of the more than 100 children's liver diseases he had, but his international normalised ratio (INR) was too low, meaning his blood took too long to clot and a biopsy would be too dangerous.
"It was at this time that the Children's Liver Disease Foundation supported us, playing with Ralphy and giving me time to do things like have a shower and do my washing.
"Ralphy was having all the nutrients that his body hadn't been getting when his liver wasn't working and he got better and better.
"Eventually, he was well enough to have a liver biopsy, which was horrible, and although they could not tell us exactly what was wrong, they have not ruled out auto-immune liver disease, which means his immune system will attack the liver every time he catches a virus, which is what happened in the first place.
"Ralphy came home and they told us he would need regular care, to test his sugar levels every day, take his vitamins and we keep an eye on anything that is going around.
After returning home, Ralphy and his family have received support from the Children's Liver Disease Foundation – the country's leading charity fighting childhood liver diseases.
"We were in hospital for four weeks and our lives stopped for that time," said Charlotte, "so I'm so grateful to the hospital and the charity for everything they did for us and we wanted to raise money for the Foundation to say thank you."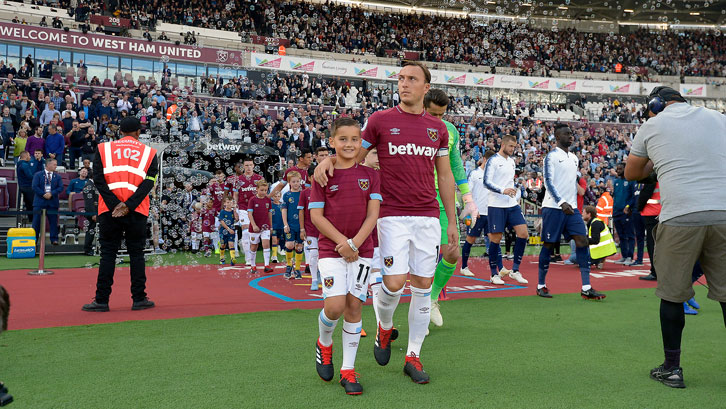 To thank the charity for their support, Ralphy put on a fundraising event, raising nearly £2,000 by auctioning a signed West Ham shirt and other items and having his uncle Billy have his chest waxed!
When West Ham United were made aware of Ralphy's story, the club invited the courageous youngster and his parents to attend the Premier League fixture with Tottenham Hotspur at London Stadium.
There, the schoolboy burst into tears of happiness when he was told he would be a mascot and walk out onto the pitch with his hero, captain Mark Noble.
It was a day Ralphy and his family will never forget.
"I was very ill when I was small, so I had to have lots of blood tests," Ralphy said, although he cannot remember much of the treatment which saved his life. "I've had children's liver disease, so I wanted to thank you to everyone who helped me and help all the other brave kids who are going through similar stuff.
"I love West Ham and their players. Mark Noble is a hero of mine and meeting him was unbelievable!"
For more information about the Children's Liver Disease Foundation, click here.