Felipe Anderson hailed 'a great day' after scoring twice in West Ham United's 4-2 Premier League victory over Burnley.
The Brazilian winger lit up London Stadium with his best performance in Claret and Blue to date, creating and taking chances to help the Hammers overcome being pegged back twice to secure three thoroughly deserved points.
Combining flair with work-rate and the quality that convinced the club to spend a record fee to bring him to east London in the summer, the No8 was delighted to have produced a Man of the Match display in front of his own fans.
It's better to work with a win, we have serenity, confidence and we want to get more

Felipe Anderson
"I'm very happy," he told whufc.com. "We were really looking for that victory. We were really working for it. I hoped it happened, whether I scored or not, but I'm happy I contributed with goals and a good performance and I'm very happy for this home victory by two goals.
"I'm always looking to help the team, with a goal, a move, a pass or any way I can but if I do it with a goal or an assist I'm even happier. It was a great day, we played really well regardless of how hard the match was, we were up to the challenge and we got the result we were looking for.
"At 1-1 we believed we could win it, I scored and they equalized again and for some seconds we couldn't believe it but we are a team that fights until the very end, that believe in themselves and that helped us stay in the game.
"It's better to work with a win, we have serenity, confidence and we want to get more."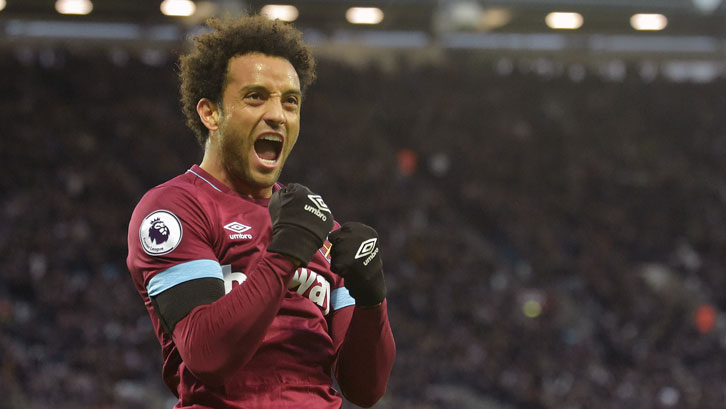 Prior to the game, manager Manuel Pellegrini had demanded more from the former Lazio star, while also pointing out that Felipe Anderson was himself aware of the need to improve his output.
The result was an all-round display that suggests the 25-year-old is coming to terms with the intensity of England's top flight.
"The Premier League is really hard, really strong and everybody is really strong," he explained. "I had to adapt and my teammates always told me they had faith in me regardless if I played well or badly and that has been really important for my adaptation and to be able to show my game."
Pellegrini was not the only one happy with Felipe Anderson's showing, as the Claret and Blue Army left London Stadium singing the name of their newest hero. The feeling of admiration and respect is mutual.
"The fans here are incredible," said the match-winner. "I've never seen something like that. At the beginning of the season it was very hard, I didn't play well and they kept on motivating me, they kept on supporting me, and that stayed in my heart and I'm really happy that I could bring them some joy."