Marko Arnautovic praised his West Ham United teammates for playing 'an amazing game' in Saturday's 4-2 Premier League win over Burnley.
The Hammers put together a dominant performance at London Stadium, where the Austrian set the tone by robbing James Tarkowski and beating to Joe Hart to score an opportunistic opening goal.
Despite having little by way of possession, Burnley equalised not once, but twice, after Felipe Anderson had put the hosts 2-1 up, before late goals from the Brazil winger and Chicharito finally settled the game in West Ham's favour.
We stayed calm when they equalised at 1-1 and 2-2 and it was not easy, but I think we probably deserved to win

Marko Arnautovic
"I think over the 90 minutes, we completely dominated the game and we could scored more because we created a lot of chances," said Arnautovic, whose fifth of the season also made him London Stadium's all-time leading scorer. "We know Burnley and the only thing they had was the long ball and playing off the second ball and twice we didn't deal with it.
"But, overall, we played an amazing game. We stayed calm when they equalised at 1-1 and 2-2 and it was not easy, but I think we probably deserved to win.
"It's not easy when you have so many chances and someone keeps lying on the line and they keep saving it. It's getting in your head but you have to stay calm as a forward player and try to finish the game we did it.
"Well done to Felipe Anderson and Chicharito for being calm and scoring these goals. It was an amazing finish."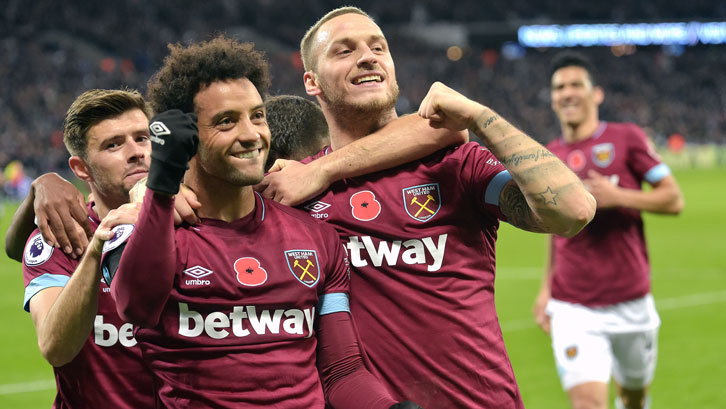 There were real signs of a potent partnership developing between Arnautovic and Anderson, with the Austrian playing the winger in for West Ham's match-clinching third six minutes from the end.
"We try always to find this in the game," said the No7, who also combined with the former Lazio star on a number of other occasions. "We know it's not easy because Burnley stayed very defensive and we needed to go through the lines.
"We tried and today it was a brilliant game from everyone – all eleven starters and the players who came off the bench – so it was a great feeling to get the three points."
West Ham will travel to bottom side Huddersfield Town next weekend, when they will seek to record back-to-back Premier League wins for the first time since January 2017 and go into the international break on a real high.
"We don't have to talk about Huddersfield now as I've just come off the pitch and I'm really tired, so I'll try to recover myself and as a team," said Arnautovic, with a smile.
"We have a day or two off, depending on what the gaffer says, then we'll be back in training and concentrate on Huddersfield.
"We will see. It's not an easy game. It's an away game and they've also got quality and also need the points, so we will see."