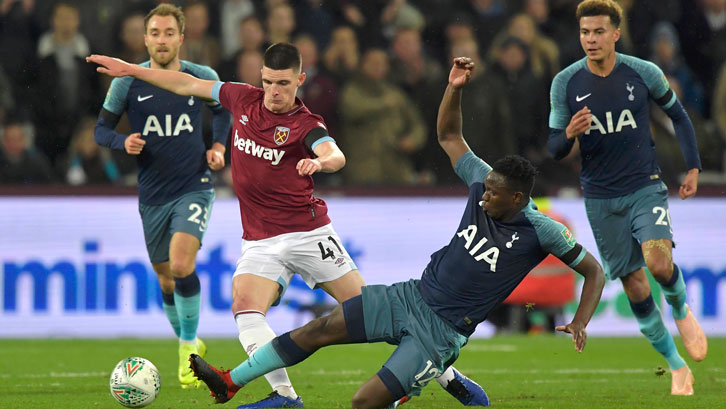 Declan Rice has become an integral part of the West Ham United team.
Less than 18 months on from his senior debut, the teenager is filling a vital position in the starting XI, as a ball-playing deep-lying midfielder. Showing outstanding composure and technical ability and an understanding of the game that belies his tender years, the youngster is at the hub of most good things about the Hammers' play.
Rice was superb in Saturday's 1-1 Premier League draw at Leicester City and arguably West Ham's best player in Wednesday's Carabao Cup defeat by Tottenham Hotspur. Now, he is gearing up for a third big game in eight days at home to Burnley this weekend.
"It's been good, it's been really, really good," he confirmed. "I'm enjoying playing in a different position than last year, which I really like.
"Obviously, playing three games in a week is going to be tough, especially having played the second half with ten men on Saturday, but we go again against Burnley, so I've got to recover well, conserve my energy and prepare myself mentally to go out there and perform again.
"I'm really enjoying playing in that role."
We've got to start turning chances into goals because you don't move up the league or win cup competitions if you don't score

Declan Rice
While his displays have been eye-catching, Rice is mature enough to acknowledge football is a team sport and pointed to his rapidly developing relationship with centre-backs Issa Diop and Fabian Balbuena as being key to his own success.
"The way we're all training together, Issa, Fab and myself have got a great connection together," he revealed. "Even though Issa is French and Fab is from Paraguay, we all speak together and we all get on really well, and it's good to have those connections.
"We understand that if Fab goes into the ball, I drop into his spot and we know each other's positions inside out.
"I think it's good that we have three like that at the top of the spine who know what they're doing."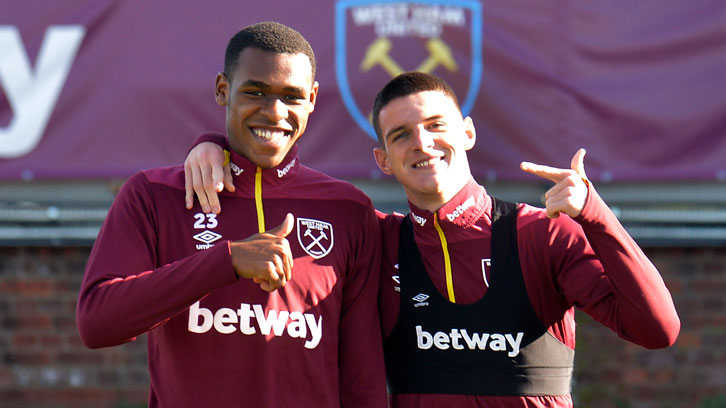 While Rice may be at the top of his game again against Burnley – the team he debuted against at Turf Moor in May 2017 – a West Ham victory will be dependent on more than just a solid defensive display.
As the 19-year-old points out, Manuel Pellegrini's need to start turning encouraging attacking moves into goals if they are to win matches on a regular basis.
"We created a lot of chances again [on Wednesday]," the impressive teenager observed. "In the first ten or 15 minutes we caught them offside three or four times, but the first two goals came from mistakes and ricochets, both off the legs, and they've been put through for two easy goals.
"The third one is also a mistake, but, look, we've got to move on from that and concentrate on Burnley.
"We've been creating so many chances, winning so many corners and opposition 'keepers have been having worldies against us, to be fair, making some great saves, but we've got to start turning chances into goals because you don't move up the league or win cup competitions if you don't score."