Manuel Pellegrini has spent 30 years honing his craft.
West Ham United's new man in charge has managed top-flight clubs in Chile, Ecuador, Argentina, Spain, England and China, winning titles in four different countries and coaching players of dozens of different nationalities.
As his long and successful career has blossomed, Pellegrini has developed his own tactical nous and understanding of the physical, technical and emotional needs and demands placed on his players, man and media-management skills and what works and does not work in particular countries, continents and competitions.
I think there are different ways to do it, and the way the fans like is to try to score goals and be an attacking team

Manuel Pellegrini
In Spain, for example, the Chilean was lauded for his ability to blend positive aspects of European and South American football to produce teams who were hard to break down at one end of the pitch, and fluid and incisive at the other.
Under Pellegrini's direction, Villarreal emerged from near-obscurity to challenge the likes of Barcelona and Real Madrid for the La Liga title and reach the UEFA Champions League semi-finals.
After leading Real to a record 96-point haul in 2009/10, he then repeated his Villarreal trick with Malaga, guiding them to a historic fourth place in La Liga in 2011/12 and the last eight of the Champions League the following season.
The 64-year-old brought what he had learned to Manchester City in 2013, adapting his methods for the Premier League, with immediate results.
City won the title and the League Cup in Pellegrini's first season in charge, scoring 151 goals in all competitions in what is commonly held to be one of the greatest campaigns in the club's history.
Now, after two years in the Chinese Super League with Hebei China Fortune, he is seeking to put everything he has learned into practice in England for a second time, with the aim of turning the Hammers into one of the country's top sides.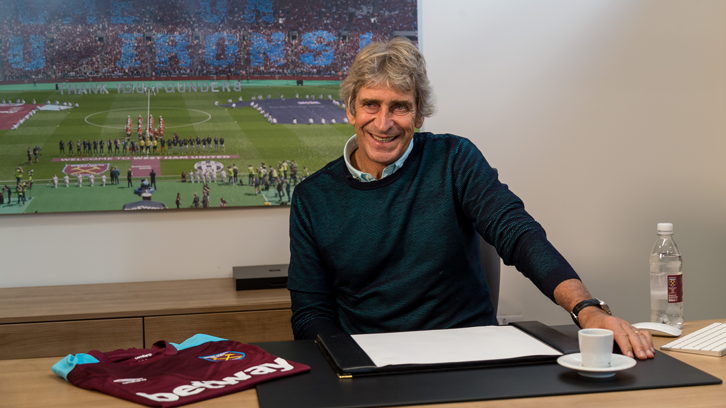 "When I first came to Europe 14 years ago, I arrived with Villarreal and I felt it was important to put the South American football mixed with European football," the new manager explained, before stating his aim to have his West Ham team play attacking, entertaining football.
"Maybe Spain is not the same as England as it's a different kind of play and a different kind of game, but when I came here five years ago with Manchester City, I tried to continue working the same way and fortunately for me we were very successful as we won the title and we won the cup and we scored more goals in a season than any other.
"I think attractive football is for the fans. Maybe for me the most important thing for me is to win, but I think there are different ways to do it, and the way the fans like is to try to score goals and be an attacking team.
"Of course, you must defend, but the football that I always practised in Europe has always delighted the fans."