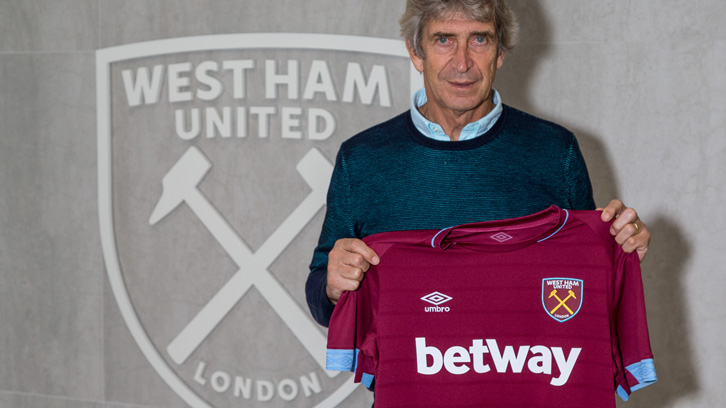 Manuel Pellegrini believes 'respect, commitment and performance' will be key to him building a successful West Ham United team. 
The 64-year-old has managed at the highest level in South America and Europe for nearly two decades and knows a thing or two about what is required to win titles, having done so in four different countries.
In a recent article with The Coaches' Voice, Pellegrini outlined his own personal recipe for getting the best out of himself, his players and his club.
"Usually, the first few days I'm with the players I tell them how I work with a group, not just on the pitch but off the pitch, too," Pellegrini wrote.
"For me, there are three things that are totally non-negotiable with players. First of all, respect. Respect for everything: the Club, fans, journalists, coaching staff, Cirectors. Respect among the players themselves, that's very important.
"Second is commitment. I think there are a lot of ways to coach, but you have to get the commitment of the group to your way of coaching.
"And third: performance. For me, it is not up for negotiation at all. I try to be as objective as possible. I understand players who aren't playing can't be happy, but my demands of them have to be exactly the same."
Pellegrini is also relishing the prospect of managing West Ham at London Stadium next season.
The Chilean, who got his hands on the new 2018/18 Umbro Home kit after agreeing a three-year deal to take charge of the Hammers this week, visited the Club's iconic home for the first time on Tuesday evening.
And, after enjoying a Rolling Stones concert, Pellegrini expects the arena to be rocking again to the sound of the Claret and Blue Army when the 2018/19 Premier League season kicks-off in August.
"I managed a lot of times against West Ham and the fans were always special fans," said Pellegrini, who managed eight times against the Hammers during his three seasons at Manchester City between 2013 and 2016.
Pellegrini visited the Boleyn Ground four times during his time at City, drawing once and losing once – the latter as Premier League champions – so he is fully aware of the power West Ham supporters have to inspire their team on home turf.
"In the old stadium it was 35 or 36,000 people, but now in the new stadium we have at least 55 or 57,000 people, so I hope the supporters will be a very important part of the success we can have next season," the 64-year-old observed.
"I know very well that the West Ham fans are always behind their team. Maybe they were not so happy last season, but I am sure next season we are going to, all of us together, celebrate an important thing for this team."