West Ham United Joint-Chairman David Gold has expressed his delight at securing the appointment of Manuel Pellegrini as manager and has described the Chilean as 'a winner still hungry for success'.
The former Villarreal, Real Madrid, Malaga and Manchester City boss arrived at London Stadium this week on a three-year deal and has made an immediate impression with his eagerness to gain knowledge of all areas of the Club and his vision for the future.
Speaking exclusively to West Ham TV, Mr Gold said: "I think it's fantastic. Here is a manager of great reputation, who has been there and done it. A man who I think has won four league titles in four different countries, which is remarkable.
"Let's hope he can do something special – I think he will. I've only met him a couple of times, but I've found him very warm and friendly, but very determined. Everything you see about him is determination – he wants to know about everything.
"He is a football man but, most of all, I get the impression he is a winner. And he is still hungry to succeed. I think that's terrific, that's what we want to see."
I get the impression he is a winner. And he is still hungry to succeed

David Gold
With the new manager now in place, the focus turns to the summer recruitment process that will undoubtedly see new faces arrive, but the Joint-Chairman believes that Pellegrini already has a strong base to build upon.
"There is no question that he is inheriting a decent squad," he said. "We finished 13th, but if we hadn't suffered the awful injuries we had, we could have finished higher up the league with our full squad. 
"Yes, of course, we need to add to it and, to that extent, Manuel is already planning and working on that. I think he is talking about four or five players – as we were talking about four or five players, and so straight away we are in agreement about what should be done."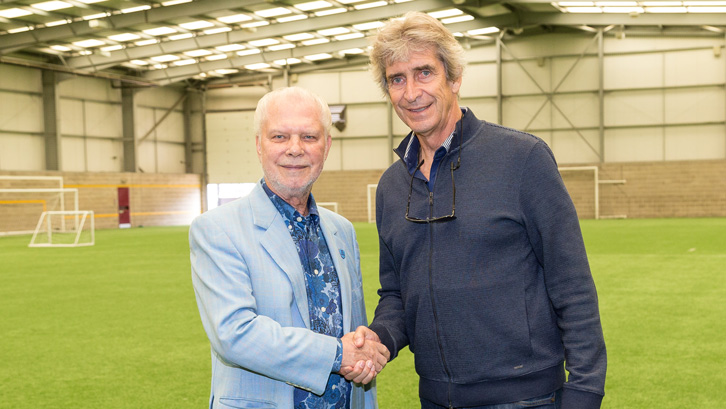 The Joint-Chairman spent time with the new manager on Wednesday afternoon at the Club's Academy headquarters at Chadwell Heath, where the pair met Academy Director Terry Westley to discuss the £3 million redevelopment plans at the site scheduled for this summer.
"Manuel wants to look at the plans, he is excited about it and he is impressed," said Mr Gold. "He wants to know about what it is going to deliver. He talks about the importance of young players and I like to hear that from a manager.
"I've been in this business for 25 years and most managers talk about the here and now – what are you going to deliver tomorrow? They don't look too much to the future, but Manuel did – he was keen to talk about the young players, and to see the facility and the money we are spending here."