The latest batch of exciting, young footballing talents put pen to paper at the West Ham United Academy recently as the U9s signed their first schoolboy terms with the Club.
The youngsters were invited to London Stadium for an induction evening, where they were shown around the Hammers' home prior to the Academy of Football's U23 London derby fixture against Arsenal.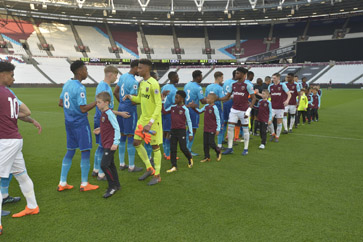 The schoolboys, who arrived with their parents in east London, were first shown to the Media Lounge where they enjoyed food and drinks with their parents before embarking on a Stadium Tour.
The first stop was the home team dressing room, where the U9s were presented with the famous Claret and Blue jersey, freshly printed with their own surnames.
Next, the youngsters were taken pitchside, posing for photos before taking in the surroundings where they will one day hope to make their Hammers debut.
Proud parents were later brought out to the pitch and their children were once again in front of the camera as they put pen to paper in a mocked-up contract scenario, having already officially signed days earlier.
Finally, as the Club's U23 walked out for their final Premier League 2 fixture, the U9s accompanied the young stars as mascots before, at half time, taking to the field for small-sided matches.
The young lads' contracts will see them work under the tutelage of the Academy coaches next season as they look to improve their skills and progress to the next level of their young careers.