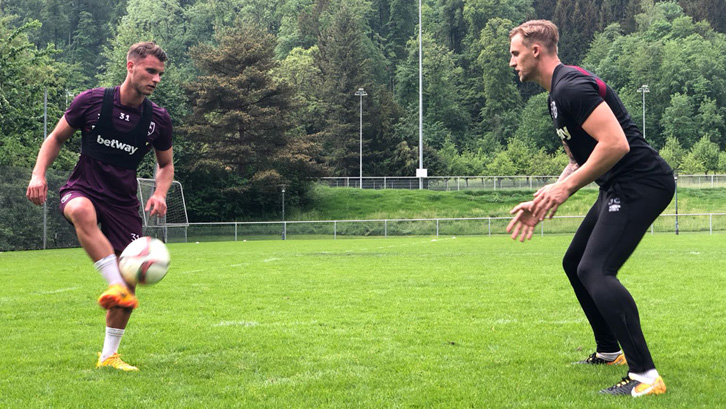 It's been a long road to recovery for Noha Sylvestre, but the light at the end of the tunnel can now finally be seen.
That's not to say it hasn't been an incredibly difficult six-and-a-half months for the Swiss midfielder, though, who recently signed a new one-year contract extension with the Club.
Being told you're set to be out of action for up to a year is possibly the worst kind of news a young, talented Academy player attempting to come through the ranks can hear, but it's exactly what Sylvestre was told back in September when he picked up a serious knee problem.
"When I heard about the injury, I was told straight away – OK, it's nine to 12 months out," the 20-year-old, who is seven and a half months into his recovery, reflected. "It was horrible and so hard to take.
"It was so tough to have that initial MRI scan and chat with Tom [Smith, Head of Sports Science and Medicine at the Academy] to say I'll be out for this long. It took me a couple of days, weeks – probably two months – to realise and mentally get it in my head.
"How am I going to be mentally and physically afterwards? What will I do when I'm not with the team? So for the first two months, it was really difficult to concentrate and accept it.
I have amazing people to work with; people in the gym, the physios, everyone. After two months, I could walk properly and I was moving better. As soon as you see that, you know you're on the right road

Noha Sylvestre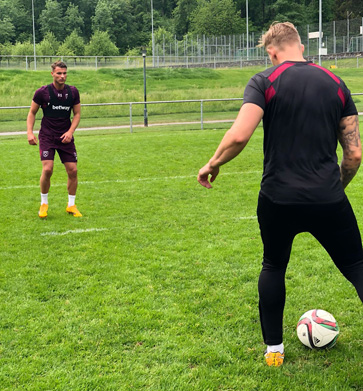 "But I have amazing people to work with; people in the gym, the physios, everyone. It took a while but after that second month, I had a click in my head saying I can see the progress after the surgery and after two months, I could walk properly and I was moving better. As soon as you see that, you know you're on the right road."
Noha's surgery back in September was successful, and since the end of the regular Academy league season, the midfielder has been able to travel to Zurich in his home country with his teammates to their FIFA Blue Stars Youth tournament.
There, the youngster could continue his rehabilitation with the help of his Mother and Father – who is former Switzerland international Patrick – and in a new setting.
And it's thanks to many great people at the Academy of Football that Sylvestre is on the right road.
Working closely with the previously mentioned Tom Smith, as well as Matt Bramall (Head of Athletic Development), U23 Performance Scientist James Gritt and former Hammer and Academy coach Jack Collison, has allowed the youngster to get to a positive place.
"I'm tough in my head; I know what I want to do and I know I want to dig deep and come back stronger and that's what I'm determined to do," Sylvestre continued.
"It's a mental challenge but you need to stay positive; do your work, extra work. It's the same as when you're fit; you need to push yourself to your limit.
"I couldn't have been in a better place and work with better people than I have. They have been through it with me. When you walk in the canteen and everyone is asking after you, it motivates you.
"Everyone cares. Everyone puts so much effort into everything; they're so professional and they push you to your very maximum."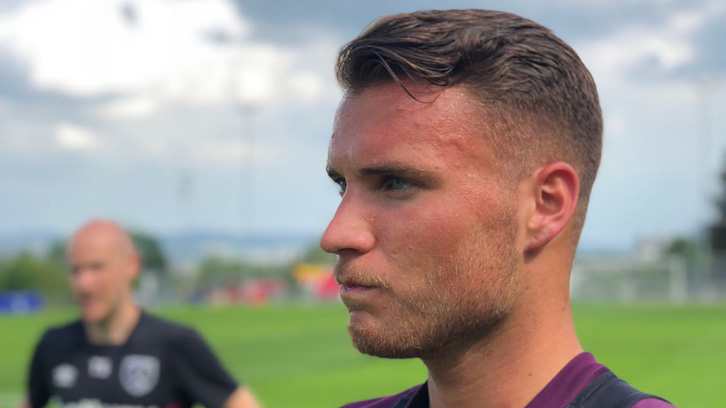 Sylvestre was part of the Premier League 2 side which won promotion to Division 1 last term and though he has missed out on a great campaign this year, he is delighted for his teammates nevertheless.
"It's been difficult, but I have always been around the team this season – when they train at Chadwell I have always been coming out and watching them train and staying involved.
"When you're injured you have a choice of whether or not you want to be part of the team and I've always stayed there.
"After a great year last season, which was fantastic, there was a great spirit in the team and there still is, and I'm really happy to see my teammates do so well this season. I'm not surprised because Terry and Liam are doing a great job."
Sylvestre is now in the gym regularly, running on the grass, working on multi-directional and resistance involving the ball and completing high-intensity conditioning work. As his comeback approaches, so does that light at the end of the tunnel.