Reaction
Noble: Sunday was just a brilliant way to finish the season
Mark Noble thanked the Claret and Blue Army for sticking with him and his West Ham United teammates until the very end of a tough season.
The Hammers signed off the 2017/18 campaign with seven points from their final matches to climb to 13th in the Premier League table, having at one stage sat in the bottom three with just 14 points from the first 17 top-flight matches.
The finale came on Sunday, when two outstanding goals from Manuel Lanzini and a rocket from Marko Arnautovic secured an emphatic 3-1 win over Everton amid a feelgood atmosphere at London Stadium.
It's just a brilliant way to finish the season. The season we've had has been tough, but I can finally go on holiday and enjoy myself
"Brilliant, the way we played from start to finish," said the skipper, reflecting on the victory. "They came on strong at the start of the second half, but with our quality going forward, we put the game to bed.
"We definitely should have been two or three up in the first half. With my chance, I thought I was offside but I should just have worried about finishing it. But it's just a brilliant way to finish the season. The season we've had has been tough, but I can finally go on holiday and enjoy myself."
"We've got special players. We were in a bad position because we didn't show that. I honestly think we can really compete with the best when we play that way and we've proven it this season in some of the games.
"It happens every year that I look at the table after we've finished and I see we are five or six points off the top eight or nine. When you see the games we've chucked away and the points we've lost this season, it could have been us, but that's football for us. The last few weeks, the training ground has been fantastic. It's been a good place to play football."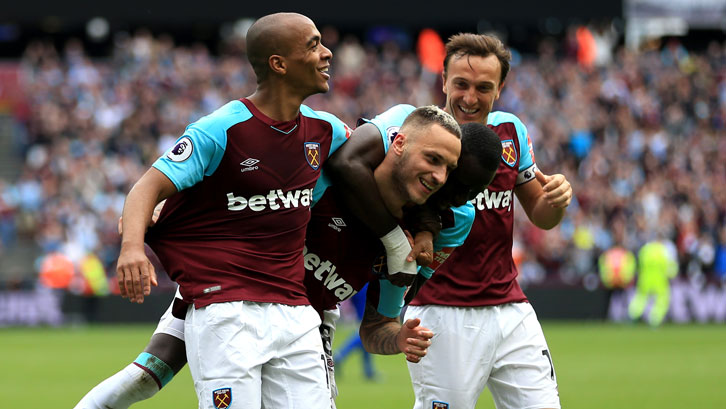 Noble was grateful to the tens of thousands of supporters who stayed after the final whistle to show their appreciation to the players who, in turn, thanked the fans for their loyal support throughout a challenging campaign.
"I'm just really happy for everyone. Thank you to everyone who stayed behind and clapped the boys because we played at Leicester away last week and we saw there weren't many people left. There were loads left for us and it was fantastic for them to stay and clap the boys."
Noble, his wife and two children, as well as every player and their family, will now enjoy some well-earned time off before returning for pre-season training in early July.
The No16, for one, is relishing the opportunity to recharge his batteries before embarking on his 15th season as a first-team player.
"There are a few big, big decisions to be made over the summer but that's the last thing on my mind at the minute. I can't wait to go on holiday with my family and enjoy the time off and come back raring to go next season."