West Ham Tv
Moyes: It was a great performance to beat Everton

David Moyes was thrilled with his West Ham United side after they signed off the 2017/18 season in style with a 3-1 victory over Everton on Sunday.
Two goals from Manuel Lanzini and Marko Arnautovic's eleventh of the season set the seal in a dominant performance from the hosts, which had the boss purring at his team's attacking play.
The three-point haul lifted West Ham to a finishing position of 13th in the Premier League table, leaving Moyes to reflect on a strong recovery from the position he inherited in the autumn.
"What a great performance," he beamed. "It was a good game, we really enjoyed it. We played well and I enjoyed watching it. We scored good goals.
"[All three] were great strikes, but our play all day was really good. In recent weeks our form has been very good – our football has improved and players are getting better.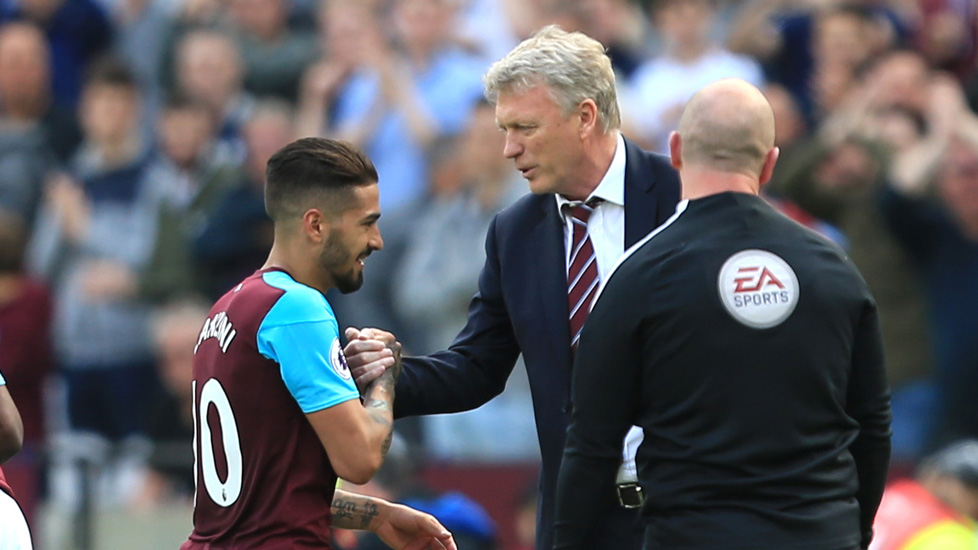 "It came very close to our best performance of the season and I thought we played very well with the ball. We had signs of that at Leicester, we had signs at Manchester United, and when I look back to when we first came in and were trying to get results by hook or by crook, today looks much more structured and we've got a way of playing. We were very good today.
"When we came in we were in the bottom three and we've ended 13th, so I'd have taken that all day long, that's for sure."
Marko Arnautovic's upturn in form since Moyes' appointment has gone a long way to helping the Hammers climb the table, and after he took his final tally to 11 goals and six assists – all registered in his last 20 appearances – the manager was full of praise for his forward.
He added: "Marko has been brilliant. I know the quality of centre halves they have, Phil Jagielka, Michael Keane, and I can tell you he was up against really good players.
"At the moment he is looking a real handful. The bit of play we had when Nobes nearly scored early on was terrific, and I thought Joao Mario and Lanzini were always a threat on the break too."