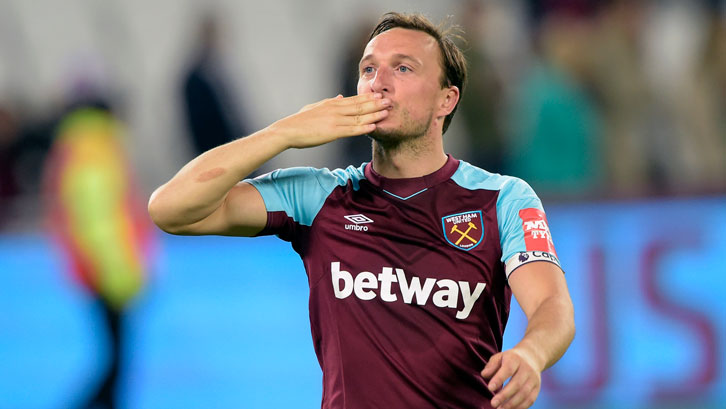 Mark Noble believes West Ham United can end the season on a high when they host Everton on Sunday.
The Hammers could yet finish in the top ten should they beat the Blues at London Stadium and results elsewhere go their way.
Having won at Leicester City last weekend and more than held their own against Manchester United on home turf on Thursday evening, victory over Sam Allardyce's side will see West Ham go into the summer in a more positive frame of mind than they might have done following heavy defeats by Manchester City and Arsenal a few weeks ago.
With all the stuff that has gone on this year, I'm proud of how we've come through it

Mark Noble
"Our last two results have been very good, beating Leicester away and then drawing with Man U at home – four points, two clean sheets, safe in the Premier League with another home game to come," Noble observed.
"All in all, at the end of a ridiculously tough season, physically and mentally, to come away safe and potentially mid-table weirdly makes it OK. The feeling is it hasn't been a good season, but the league table might yet say it's been an OK season.
"Our target at the start of the season was to finish in the top half but, with all the stuff that has gone on this year, I'm proud of how we've come through it, particularly as a number of our players haven't been used to this sort of pressure. We've stuck at it and got safe."
On a lighter note, Noble also revealed that his son Lenny was none too impressed with his on-pitch altercation with Paul Pogba on Thursday evening.
The flashpoint occurred when Manchester United's France midfielder kicked out at the No16 near the end of a physical, hard-fought goalless draw, and Noble did not take the foul lying down.
Both players were booked for their part in the incident, but moments later enjoyed a light-hearted embrace at the final whistle.
The captain made light of the clash after the game, before revealing that Pogba is also one of his son's favourite players!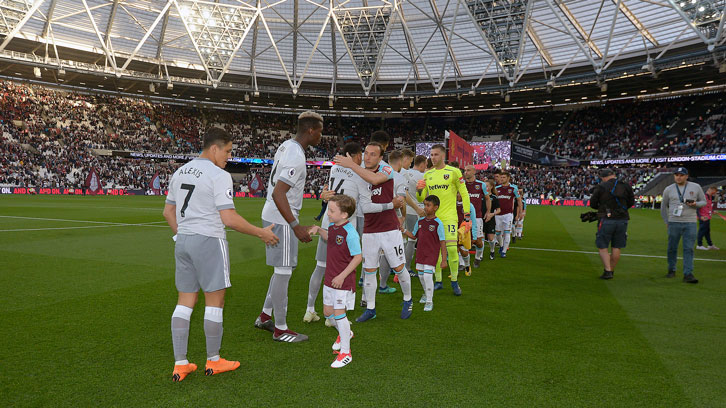 "The funny thing is that my son Lenny asked me if he could walk out with me before the game as he really wanted to see Pogba, then when I came out of the dressing room after the game, Lenny was having a photo with him, so I know where his loyalties lie!"
"I am one of Pogba's biggest fans. He gets more criticism than he deserves. He's at one of the biggest clubs in the world and is under a lot of pressure, but sometimes I think we should embrace players like that when they're in the Premier League, rather than criticise them.
"You can tell he really wants to do well and he's a top, top player. I just wanted to get close to him and tell him how good he is!
"At the end I wished him the best of luck in the FA Cup final and at the World Cup in the summer."