Marko Arnautovic says West Ham United should be proud of the way they played in holding Manchester United to a goalless draw on Thursday evening.
The Austrian led from the front against the team which will finish second in the table, winning his individual battle with England defenders Chris Smalling and Phil Jones and having the Hammers' best chances in what was a hard-fought, physical game of Premier League football.
At the other end, West Ham restricted their opponents to pot shots from distance, all of which goalkeeper Adrian dealt with comfortably enough.
I'm so happy that we are safe because this Club, the fans and everyone deserves to be in the Premier League

Marko Arnautovic
"I think we did well," Arnautovic confirmed. "We played really well. On a couple of occasions in the first half they had shots from long distance, but I think, overall, we deserved this point and maybe we deserved more as we had a couple of chances that maybe we could have finished better.
"Overall, we played well and it was a good game. Well done to us and well done to the fans as well. We can build on this and we have another game at home on Sunday and we want to finish the season strong.
"We started last week and this game we continued to do it and we want to end the season well."
Sky Sports Man of the Match Arnautovic did not give the Manchester United defence a moment's peace, repeatedly beating Smalling and arguably staying on his feet when Jones clipped him inside the penalty area.
On another night, he believes the home side could have won all three points instead of settling for one.
"There was a lot of holding and a lot of grabbing. It was a very physical game, but this is the Premier League and we knew we were playing with Manchester United, who are second in the league and are a strong a team, so we needed to compete with them and we did.
"I think it was a fair result but if we had finished better we could have taken this game come away with a win, but we are happy with a point."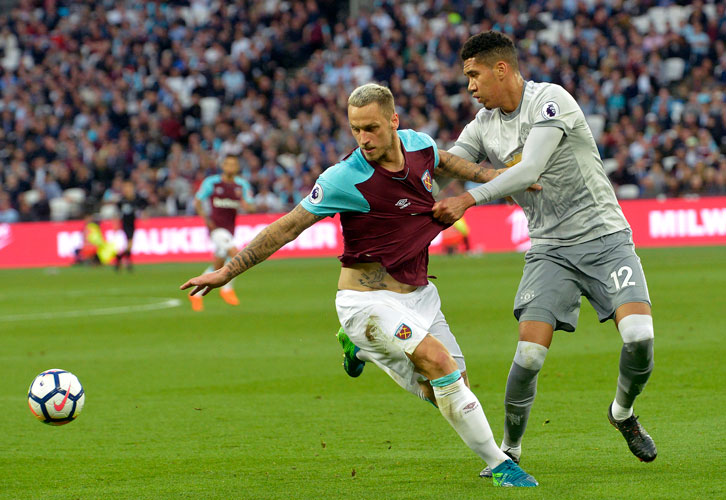 Looking at the bigger picture, West Ham could now finish as high as tenth with a victory over Everton on Sunday and the Austrian is targeting a win to sign off what has been a challenging season on a real and tangible high.
"I'm so happy that we are safe because this Club, the fans and everyone deserves to be in the Premier League.
"Of course, we had ups and downs, but I'm happy I could help the team towards our goals. I hope I can continue this next season.
"We have one more game on Sunday and we want to finish strong, then we can go forward to next season."