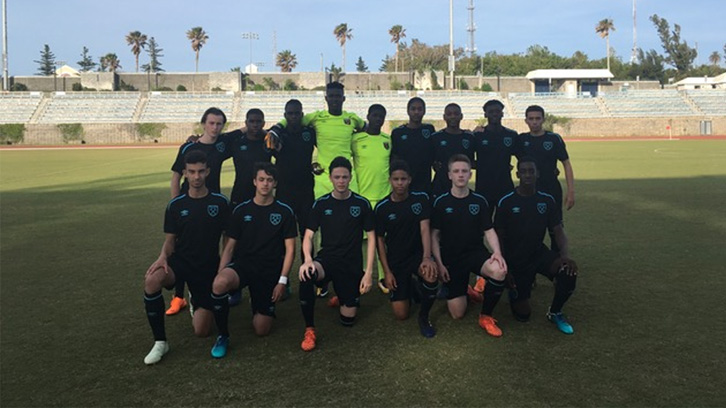 West Ham United's Academy of Football travelled to Bermuda over the Bank Holiday Weekend ahead of their participation in the International Football Festival Tournament.
The first in a number of international tournaments for the Academy this summer, Academy Director Terry Westley took an U17 side to the competition which will be followed by trips to Switzerland and Hong Kong.
Upon arrival on the Atlantic Ocean island, the young Hammers were met by former West Ham great and Bermuda international Clyde Best, who managed his nation after his playing career ended.
The youngsters then began their campaign in the tournament by taking on the country's U20 side, a game, full of talking points, which eventually ended in a 1-1 stalemate.
In a very tight first half, West Ham created the better opportunities, with Brazilian midfielder Bernardo Rosa the driving force and Jay Mingi standing strong in defence.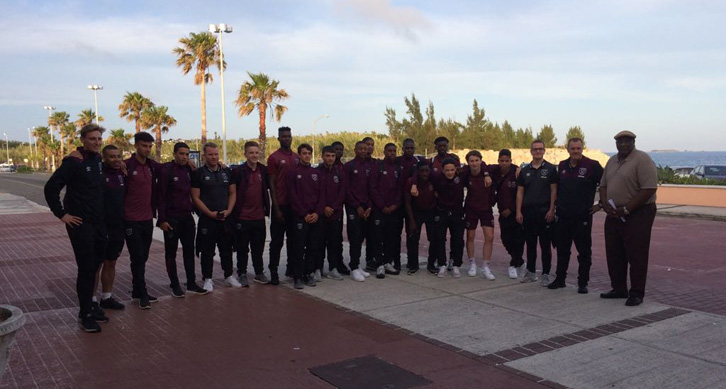 The visitors dominated large periods of the half but were unable to get the significant breakthrough goal and went in at half-time goalless.
After the restart, stopper Joesph Anang made two impressive saves before the Hammers went 1-0 down to what can only be described as a dubious goal, with the ball clearly leaving the pitch and West Ham players having stopped for the expected throw-in.
The national team continued however, as did the referee, and went on to score the opening goal.
A well-worked corner, with Rosa beating his man to set up Manny Longelo, got the Hammers a much deserved equaliser soon after, though.
Later, Rosa again created a wonderful opportunity to win the match in the dying seconds but was unable to convert the chance.
And so the Hammers opened their tournament with a well-earned draw. They will now enjoy a rest day before heading into their second match with all to play for.
Westley was pleased with his team's performance, and said: "We are a young team and to play against the national team and to come away with a draw you would be satisfied.
"This is a great experience for our young players and that's really why we have come.
"Their goal was so far out of play it was ridiculous, so that leaves a sour taste because the boys worked so hard.
"For ten minutes that upset them. But for young players, they learnt that things don't always go your way and eventually got back into the game."