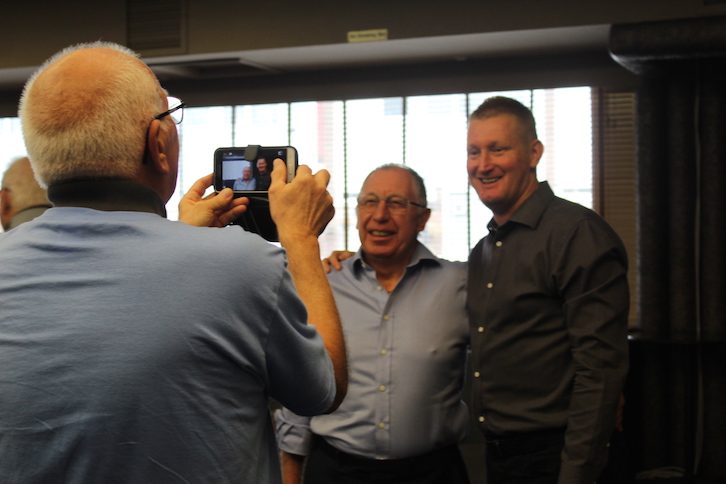 Former West Ham United captain and cult hero Steve Lomas was guest of honour alongside the next generation of the Lyall family at last week's Any Old Irons session.

Joining Lomas was Sam Lyall, grandson of the legendary former West Ham United boss John Lyall, and the pair spent the afternoon talking with the Any Old Irons on a trip down memory lane.
Run in partnership with the West Ham United Foundation and Friends of the Elderly, Any Old Irons is part of the Football Friends programme and works to give participants the opportunity to connect with other supporters in their community, bringing them together through their love for West Ham United.
For Sam Lyall, attending this event was a totally new experience for him – and he told whufc.com just how much he enjoyed it.
"It's fantastic to see the effect my grandad had on these people," he said, "They're great fans, great footballers, great players and for them to show the love, a lot of them have come out of their way just to say 'hi' which is ridiculous, because I'm only his (John Lyall's) grandson. It's very honouring."
John Lyall enjoyed during an outstanding 15-year spell in charge between 1974 and 1989. Having served his apprenticeship as a coach under Ron Greenwood, Lyall was appointed as manager on 16 April 1974, initially working under the guidance of his mentor, who served as Director of Football until 1977.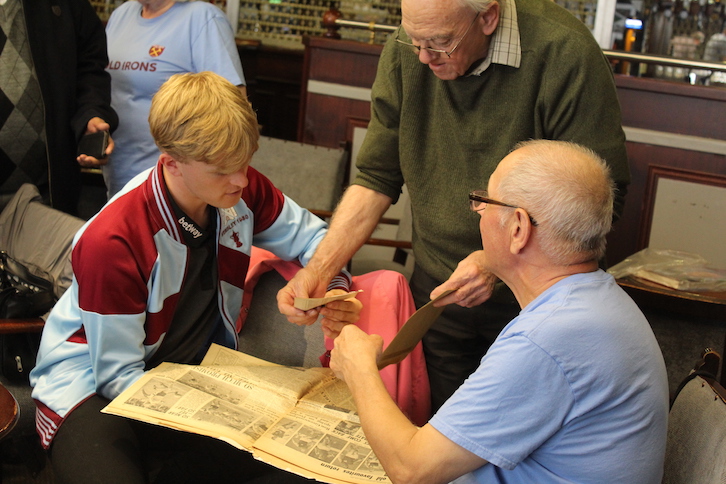 The Any Old Irons group shared with the youngster just how many fantastic memories his grandad had created for them. Lyall and the Any Old Irons spent time flicking through old memorabilia - including a 1974 edition of the Newham Recorder!
"They have so many memories of my grandad and it was amazing to hear some of them today. He clearly had a huge effect on them and gave them some great football and fantastic times. I actually first came down to the East Ham Working Men's Club a lot when I watched West Ham growing up, so to be back here today was surreal but really special," said Lyall.
As well as getting the chance to meet the grandson of one of their favourite former manager's, the Any Old Irons were also treated to a special Q&A session with Steve Lomas, who spoke about his experience of playing for West Ham and everything that followed, answering a multitude of questions about his life and experiences.
"I think it's great that it's getting the community together and the elderly people and creating a kind of camaraderie," he said. "Making that through West Ham I think it's a really good initiative and great idea," said Lomas.
"There were some tough questions, that's for sure!" But they were so engaging and have such a huge passion for West Ham!"
If you'd like to sign up for Any Old Irons, or know someone who'd be interested in joining the scheme, please contact [email protected] today!