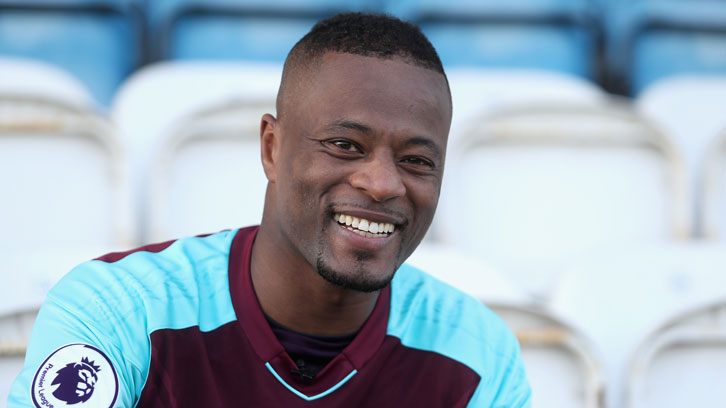 Every Monday, Patrice Evra's latest Instagram video is a must-watch for his four million-plus followers.
The West Ham United defender posts a weird and wonderful clip of himself to kick-off each week, all of them with a positive message and all of them ending with his inspiring catchphrase 'I love this game!' and his infectious laugh.
The Frenchman loves making his videos, and spreading positivity, almost as much as he loves football.
"For me, a lot of people ask me where my ideas come from, but it's just me," he explained. "Like I always say, the Patrice Evra is the one on the pitch, and Patrice is the one you see sharing happiness and smiling and being funny and positive.
"To be fair, I don't prepare anything. I just wake up and it's just my brain playing with me. I'm happy giving a lot of positive attitude to the people and sometimes I receive messages from people saying they have watched my video and it's given them a smile during a tough time.
"It's funny, but it's helping a lot of people so I'm really happy because I'm honest with people. It's not because I'm a football player, but it's because it's me and I'm not fake and I'm doing it with pleasure."
Evra posted a hilarious video featuring a phone box and some outstanding dance moves on signing for West Ham in February, but perhaps his most memorable post since joining the Hammers featured the defender and his brother riding in a traditional London black cab.
The Frenchman revealed that the securing the vehicle had taken some serious persuasion!
"The taxi driver didn't want me to borrow his taxi. I saw the taxi and asked if I could drive it, but he said he could lose his licence and he didn't want to do it. He recognised me and said 'OK, because it's you!' so we did it!
"It was a crazy idea. It was outside my house and I asked him and at the beginning he thought I wanted him to take me somewhere, but then I asked him to use the taxi for a video. He said 'No chance', so I said 'Please! It's really quick! I won't show your registration in the pictures' and then he accepted and now his cab is really famous.
"I have created a monster, to be fair. I was already known as a footballer, but now people stop me not for a picture, but for a video of me saying 'I love this game!'. It's nice, and I created this monster, so I will never complain."
Evra's entertaining clips may have gone viral on a weekly basis, but he is quick to point out that his number one responsibility is not to make people laugh, but to work hard and win football matches.
"I am not encouraging people to do what I am doing, because I am doing it after I have fulfilled my different responsibility on the pitch.
"If young guys want to make silly videos and make people laugh, but not take any responsibility on the pitch, this is really difficult. I can manage that with my experience because I don't think I would do that kind of video when I was 20 because now I know how to focus on my work.
"It's only one minute in my life. Some people think I spend all morning but, actually, I do one shot and it's nothing for me. It's not changing my life, but it's changing the lives of other people."