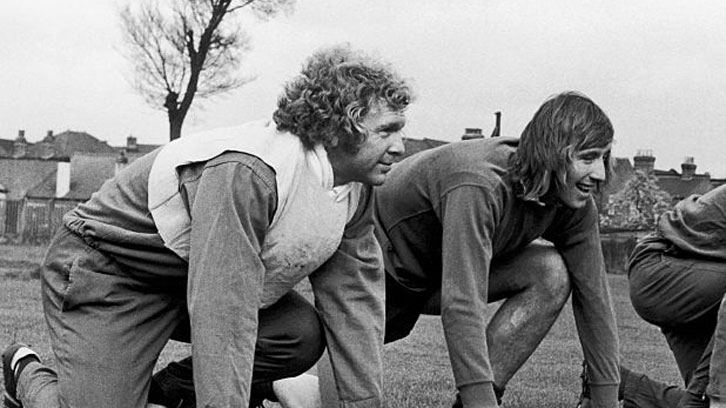 Billy Bonds tells long-serving London Evening Standard reporter Ken Dyer that the late, great Bobby Moore, who passed away 25 years ago, was his own footballing hero...
I count myself a lucky man to have watched Bobby Moore in his pomp, but how much better would it have been to have played in the same team as the greatest ever Hammer?
Dream on, as they say, but one man who does know what it was to play with the great man is yet another Club legend – Billy Bonds.
Billy joined West Ham United from Charlton Athletic for £55,000 in the summer of 1967, a year after Bobby, as England captain, had wiped his muddied hands on the Royal Box velvet, shaken the white-gloved hand of Her Majesty The Queen and then received the Jules Rimet Trophy.
The two men – Bonzo and Mooro as they are affectionately known by Hammers' fans everywhere – actually first met eight years earlier – and Bonzo hadn't a clue then, who the blond-haired young man was. Billy takes up the story.
I was a bit in awe of him to be honest because, along with Pele, he was probably the most famous footballer in the world - but I needn't have been worried

Billy Bonds
"I first met Mooro when I was about 12 years old – and I had no idea who he was," he recalls. "He came over to South London to present some medals to my local Sunday League morning team. He brought his future wife Tina over – I think they were going out together at the time.
"We had won the league and the cup that year and our manager, Mr Flowers, told us he had arranged for somebody to come and present the medals to us.
"We all turned up at Middle Park School and in came Mooro. He had just broken into the West Ham first team but we didn't know who he was. Even then, though, he had something about him, blond, good looking with a lovely young lady alongside him. He did a bit of coaching with us, presented the medals and that was it.
"We later found out his name was Bobby Moore and he played for West Ham but communication back then wasn't like it is now, there weren't loads of matches on TV – and most people of my estate were either Charlton or Millwall fans!
"Fast forward six years from that first meeting and I'm watching along with millions of others on TV, as Mooro lifts the World Cup."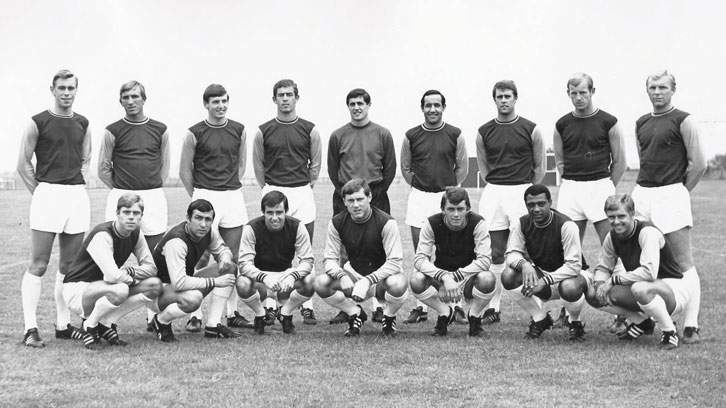 Woolwich-born Bonds moved across the River Thames in 1967, when he signed for West Ham from Second Division Charlton Athletic.
"A year after the World Cup I joined West Ham from Charlton and I certainly knew who he was then! I was a bit in awe of him to be honest because, along with Pele, he was probably the most famous footballer in the world - but I needn't have been worried.
"He was great right with me right from the start. There wasn't an ounce of arrogance or ego in him. He was so down to earth you had to remind yourself all that he had achieved.
"That was what was so great about him, apart from his ability. Nowadays there are players who, let's be honest, couldn't lace Mooro's boots but they get a little touch of stardom and that's it – you can't talk to them – big-time Charlies.
"Mooro could have been like that – but he wasn't. He was just a lovely bloke, someone you looked up to and admired. Then, to play with him, well…. You can imagine what a thrill it was for me.
Mooro was just a lovely bloke, someone you looked up to and admired

Billy Bonds
"The first game we played together I remember was against Sheffield Wednesday at the start of that 1967 season. Mooro wasn't a 'bawler and shouter'. I played right-back that day and early in the game I looked to my left and there was Bobby Moore, playing alongside me. I thought 'bloody hell', I'm playing alongside a World Cup winner.
"He was so calm on the ball, he wasn't a fierce tackler who would go through the back of people but he had that wonderful knack of just nicking the ball off opponents. He wasn't quick so his positional play had to be very good and he was brilliant at reading the game.
"I was totally different to him. He was cool and calm with everything he did while I was a bull in a china shop, flying into tackles. Just playing with him though, meant you learnt something.
"As I said though, he was never lairy. He knew all the stars and everyone wanted to know him but he always had time for you. He always kept that humility."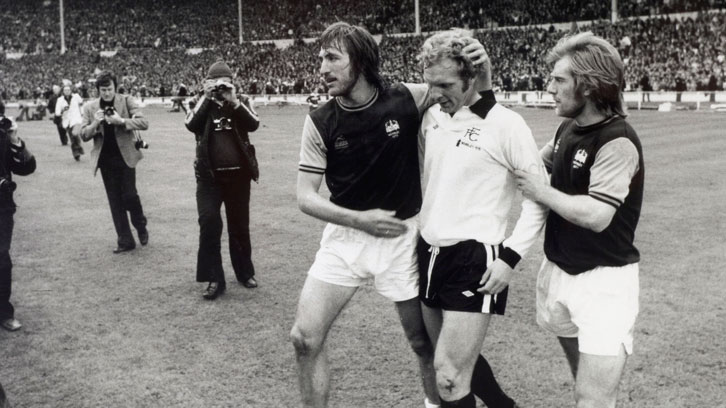 Bobby finally left West Ham for Fulham in 1974 but a year later the pair were back on the same pitch – but this time in opposition.
It was to be Bobby's final competitive match at the national stadium with West Ham finishing FA Cup winners after beating their London rivals 2-0.
Billy was West Ham captain then but, as he recalIs: "I didn't shake his hand before the game because Alan Mullery was their captain and when the game started, you put your business hat on – it's them or us and no-one remembers who finishes on the losing side in an FA Cup final.
"If Mooro had made a forward run and was threatening our goal I would probably have kicked him – and more than likely he would have expected it!
"When the final whistle went, though, and we had won the Cup, he was the first one I went to, out of respect, before I started celebrating. I wanted to make sure he knew how I felt. There's a picture of Graham Paddon and me, both with our arms around him.
"The last time I saw him was up at Grimsby in November 1992. I was manager of West Ham and I was doing an interview after a night game. We had drawn the match 1-1 and Mooro came down from the Press Box and waited until I had finished to say 'hello' to me.
"He didn't look well then and I knew he had an illness."
Bobby died just three months later.
"I wouldn't say I was ever close to him," says Billy. "It's been well documented that he loved a 'bevy' and he would go out after a game while I just went home but I always say I was privileged and proud to play alongside the great Bobby Moore.
"There are different kinds of defenders. Kevin Beattie was one of the best in my time. He was a powerhouse but Mooro wasn't like that. I can see him now, knocking 40-yard passes up to Geoff Hurst's chest.
"A truly great player and a great man – I loved him."
*This feature originally appeared in the Official Programme for the Premier League fixture with Burnley.