Marko Arnautovic says every West Ham United player 'has to stay together and fight' to keep the Club in the Premier League.
The Hammers have spent the week working in Miami, where Arnautovic says David Moyes' training sessions have had the intensity of pre-season.
But while the popular Austrian and his teammates might have been sweating, they are certainly not complaining, with the No7 insisting the squad will return refreshed, recharged and united for the run-in, which kicks-off with the visit of Southampton on 31 March.
"The training has been tough, and this is not a holiday for us," said Arnautovic. "We came out here to take some sun, of course, but I think this was like pre-season as the training was really hard.
"We are happy for this because we need to work hard and come back and finish the end of the season strongly. Until now, so far, it was not how we wanted it. We have to work hard, we have to stay together, like we are doing this week, until the end of the season because it's going to be really hard for us."
I understand the fans' disappointment. They expect us to win those games at home and we didn't

Marko Arnautovic
With Arnautovic in magnificent form, West Ham went on an encouraging run over Christmas and the New Year, rising to tenth in the table, but three straight defeats have seen them drop back down to 16th.
However, with eight matches still to play, the seven-goal striker says there is time to put things right.
"Of course, we try to turn things around. I understand the fans' disappointment. They expect us to win those games at home and we didn't.
"I think it was really hard for the players, but also for the fans and everyone involved. But my message to everyone is to keep everything together.
"Everybody who wears this badge has to stay together and fight until the end of the season. I think we're going to do our best to come out of this."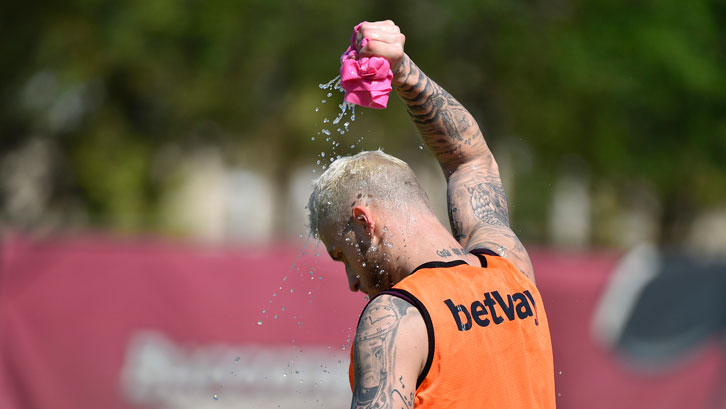 As an experienced international and Premier League performer, Arnautovic himself is willing to take on the personal responsibility of scoring and creating the goals the Hammers need to secure the points required.
Having played influential roles in the home victories over champions Chelsea and Watford and the away wins at Stoke City and Huddersfield Town, the 28-year-old has already shown he has the character and ability to do just that.
"I try to take as much as possible on my shoulders. I think, with this kind of situation, that you can do some good. I just want to work hard and start winning games.
"We need those points and we need the whole team to fight for them."