Mark Noble has urged all West Ham United supporters to get firmly behind the team and come together at a challenging time for the Club.
Speaking with heartfelt honesty and emotion, the captain, midfielder and lifelong Hammer reflected on Saturday's difficult fixture with Burnley at London Stadium, before calling for unity among his fellow fans ahead of eight vital Premier League fixtures.
"To be honest, as I said after the game, I see that we have two options – either we crumble and fold and give up or we come together, train hard and I'm hoping that the anger that the fans showed at the weekend is out now and they'll get behind us for the final five home games," said the No16.
My aim for this football club is to try and be the best it can be

Mark Noble
"We obviously don't want to see [what we saw on Saturday] because we don't want my Club, the Club I love, to be dragged through the papers as it has been, but with football and the way it is now, it's a results business and we need to win games.
"It was one of my toughest days at West Ham, because I'm as passionate as the fans and I want West Ham to do well. I've said this before, that I want everyone to be happy, but sometimes it's not quite like that. You can't show your emotions like that, by running on the pitch.
"The way our Club has always been, we're a really passionate bunch of people, but at times we show a bit of class and that wasn't the case on Saturday.
"I want us to do really well and I'm hoping that now the fans have shown their hand, they will get behind us for the remaining fixtures.
"We need them, full-stop, and we can't do it without them. When West Ham fans are on song, there is no-one better. When you see the away games, Premier League clubs don't take half as many fans as we take to away games, so it's a massive Club with a passionate bunch of people and I've said 'show that passion, get behind the team and we'll try and do something in the summer'."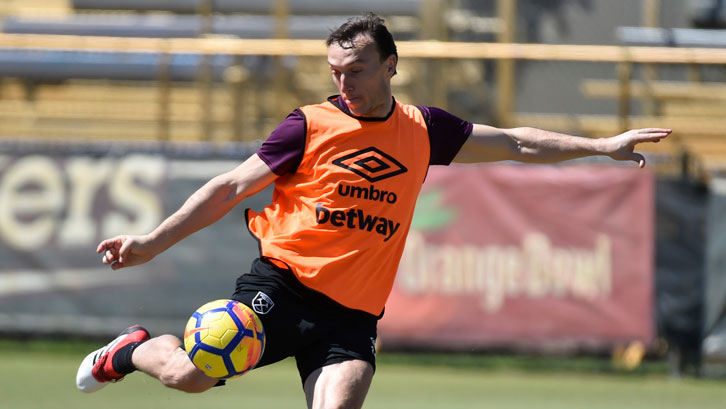 Noble also spoke of the importance of the Club's warm-weather training camp in Miami for team bonding, recharging tired minds and limbs and preparing the squad for the run-in.
"We need to get back to how we were playing before the last three games. We need to, because we've only got eight games left and we need to win a minimum of three of them to stay up.
"That's why we've come away now, to get away. We've obviously got three weeks without a game, so we've come away to really get together as a team, speak some home truths and come back fighting.
"I've been on loads of these trips and I think they're great, to train in a different location and this morning training was really good and hard. It was a lot of fun, but we got the work done. Especially at the right times, like when we haven't got a game for three weeks it's good to have a change of scenery.
"People say 'You've gone on holiday', but it isn't a holiday, the way we train. It's just another setting in which to refresh the mind and recuperate before the rest of the season.
"The spinning session we did on Monday was the first one I've ever done and it was really hard. I didn't expect it to be, but it was also really good fun, with a lot of banter with the lads, but of course with a lot of sweating and hard work! It was something different and the boys really enjoyed it.
"We could easily have cancelled this tip after the weekend and looked at all the negatives and come in training at Rush Green, but I think it's important we come together as a group and try to enjoy this time away."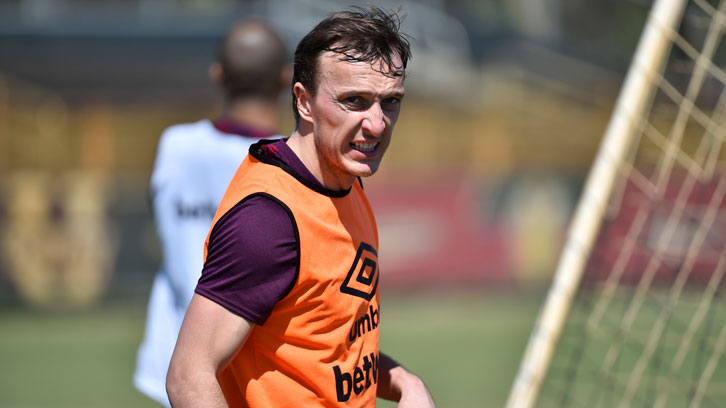 The skipper also stated his inner drive to end his 20th season as a West Ham player on a high, having initially joined the Club in 1997 as an eleven-year-old schoolboy, and lead the Club to better things in the future.
"I've always said I'm not the greatest player in the world, but I'll always give everything. I'm the captain of this football club and when things aren't going well, I take the brunt of things, as do leaders and people in positions of authority. I'd rather I get it instead of some other players.
"My aim for this football club is to try and be the best it can be. Things have to change, of course they do, but I'm pretty sure that, if we get through this season and regroup in the summer, we can get together, work our differences out with the fans and come together and we'll hopefully have a much better season next season.
"Results haven't been ideal, but I'm really, really positive that we'll get through it."