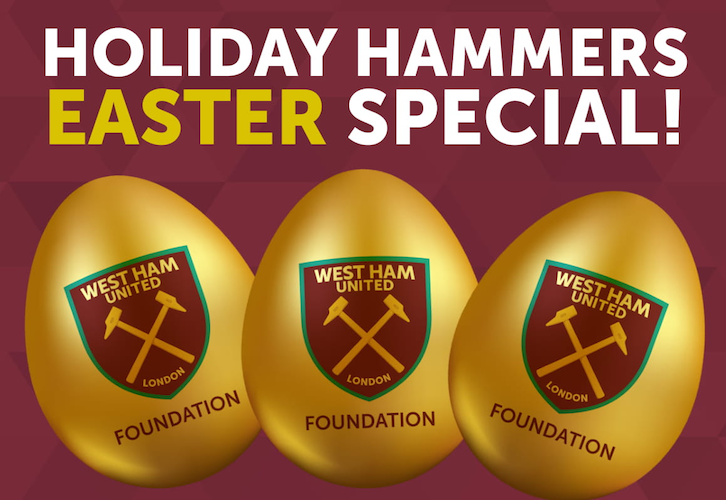 West Ham United Foundation are delighted to launch their 'Holiday Hammers' courses this Easter, with a fantastic three day bonanza at Quilters School in Billericay.
With their Soccer Schools consistently proving a hit with youngsters and parents every holiday, the Foundation has expanded its offer to include a full range of activities and fun for kids during the Easter holiday.
The Holiday Hammers Easter Special will include:
Arts & Crafts, Multi-Sports and Dance
Easter Egg Hunt
Healthy snacks and lunch provided
West Ham United Foundation Holiday T-Shirt
Celebration awards and certificates
Holiday Hammer of the Week will receive a signed West Ham United shirt
Speaking about the course, Bryan Glover, Head of Football Development at West Ham United Foundation said, "I'm really excited about the Holiday Hammers provision that we're launching today. Our Soccer Schools have provided thousands of youngsters the chance to play football in a fun, friendly and safe environment - but this course will diversify that offer even more. The three-day package should be loads of fun for the kids, and give them a healthy and fun place to enjoy their Easter holiday!"
The course will be held from 8am - 4pm on Tuesday 3, Wednesday 4 and Thursday 5 April at Quilters School, Laindon Road, Billericay, CM12 9LD and will cost £130 for the full 3 days. The programme is aimed at 5-11 year olds, but a special Reception (3-4 years old) multi-activity morning is also available.