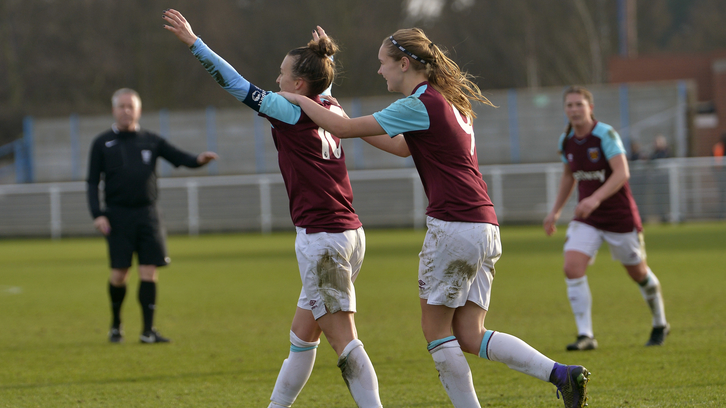 Despite having a tendency to score from long-range, West Ham United Ladies captain Amber Stobbs feels she proved she can score 'normal goals' in the 2-0 victory against Chichester City.
Stobbs netted her 12th and 13th goals of the campaign in Sunday's league win over City; the first was a trademark strike from distance from the midfielder, while the second came in the dying embers of the contest, striking the base of the post and rolling into the net.
Having scored a few from outside the area this season, the No10 believes she has shown she can be relied on to net from inside the penalty box too.
"See, I can score normal goals," A laughing Stobbs told whufc.com. "At least, I think I can.
When I joined West Ham, the coaching staff told me that I could score goals...it's great to get a few and I hope there's more to come.

Amber Stobbs
"The first was a decent strike but the second was in off the woodwork. I never doubted it would go in though.
"To be honest, I've had a few seasons with other clubs but I've never considered myself much of a goalscorer. When I joined West Ham, the coaching staff told me that I could score goals, which had me thinking about it quite a bit. It's great to have a season like this and it's great to get a few, and I hope there's more to come."
With Sunday's match coinciding with Mother's Day, Stobbs was eager to dedicate her two finishes to her mother and grandmother.
She continued: "I got two goals today – one for my mum and one for my nan, who were watching in the stands. I hope it was a very happy Mother's Day for them."
Stobbs' first finish came midway through the first half, after a spell of attacking pressure by the Irons, but the midfielder is disappointed that the side weren't able to add more in that period.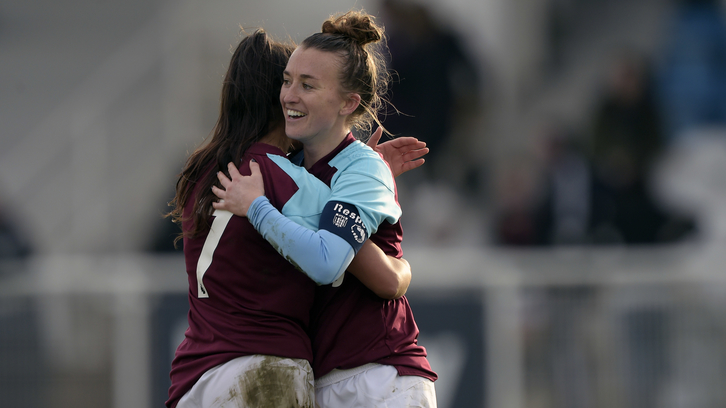 The captain admits that game management came into play during the second half, with the Hammers looking to hold on for the victory, and feels the result is a huge display of how far the team has progressed.
"The first half was a really attacking display, but I just think we weren't clinical enough," Stobbs added. "Towards half-time we did take our foot off the gas a bit, which gave them a bit of hope, and we therefore naturally had to go a bit defensively.
"In the second half, we knew we were 1-0 up, and we weren't looking to jeopardise that. We just wanted to get the game done and get the three points. It was a bit of game management, but then we got the second goal late on.
"It wasn't the best performance, if we are honest, but it was perfect in the sense that we got the job done. I think that shows how far we've come this season."