Roberta Moore told of her pride at seeing her father Bobby commemorated at London Stadium.
West Ham United marked 25th anniversary of the passing of the late, great Hammers and England centre-half and captain at Saturday's Premier League fixture with Burnley, with Roberta and Bobby's grandchildren Ava and Freddie in attendance.
The trio spent time visiting a special exhibition featuring memorabilia from Bobby's illustrious career before taking part in a wreath-laying ceremony, a giant mosaic in the East Stand and minute's applause before kick-off.
"It's so nice to see so many people seeing these treasures, and it was so special for me as I had not seen them myself for such a long time," said Roberta. "I'm so pleased that the Club has done this and we're really grateful, as it's a real tribute to Dad. It's really special.
"It's a very poignant and moving time for the family. At Upton Park, he was so close to all of us and we could sort of feel him there as it was a place of my childhood memories of going to watch him play. It's different here at London Stadium, but I think that the Club has made a real effort to keep the continuity going, which is great.
"The mosaic, floral tribute and minute's applause were all wonderful."
Surrounded by so many reminders of her father's career and her own childhood, Roberta was asked for her own standout memory of her Dad in a West Ham shirt.
"That's a really hard question! For me, I know I've said it a million times before, but I always remember Dad running down the pitch, waving at us under his arm. To me, that was Dad at West Ham."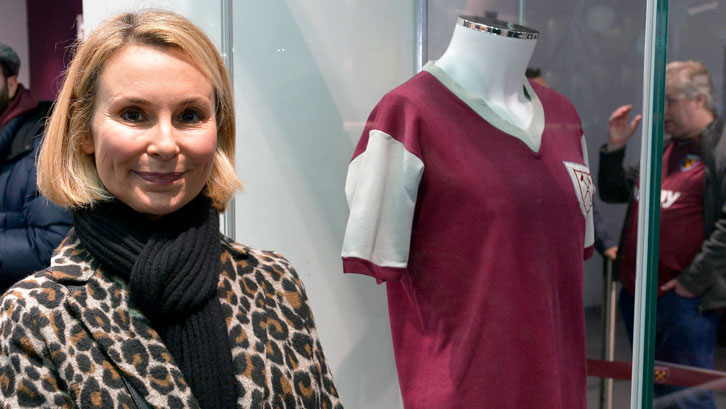 While the 25th anniversary commemorations may have now come and gone, Moore's legacy will live on, both in the shape of historic displays at London Stadium and the Moore Family Foundation, the charity founded by Roberta and the West Ham United Foundation to provide life-changing opportunities for thousands of Year 6 students across east London and Essex.
"It's great. It is making a real difference. We've engaged with over 18,000 young people now and we are now working with some special needs schools, so it's really coming along.
"The aim of the Foundation is to provide life-changing experiences and mentor young people so they make the right decisions, which is something we feel passionate about and are really proud of."
For more information about the Moore Family Foundation, please click here.