To mark International Women's Day, West Ham United Vice-Chairman Karren Brady met with members of the Ladies team to discuss issues around gender parity and equality. 
International Women's Day celebrates the social, economic, cultural and political achievements of women across the globe, and Baroness Brady believes the significance of the progress in recent history cannot be understated. 
"This is the 100th anniversary of when women got the vote in this country," said the Vice-Chairman. "I think it's a real time to look back at the women who changed life for us, that have given us the opportunities that are in front of us; the ability to vote, to get an education and to get the job you want."
Speaking to members of the West Ham Ladies team, she continued: "All those things that have happened, certainly some for me, but it will be more for the younger generation, have happened because women have stood up and fought for those changes. 
"I think this day is a reminder of all the women that came before and all the things we still have to do, because even though we've come a long way, there's still a long way to go."
I think this day is a reminder of all the women that came before and all the things we still have to do

Karren Brady
Having worked in football since the age of 23, Baroness Brady has been at the forefront of women's involvement in the sport.
In a discussion with three West Ham United Ladies players – forward Ellie Zoepfl, right-back Chantelle Mackie and centre-back Hannah Wheeler – the Vice-Chairman recalled an early incident of sexism in her career.
"When I was 23 and I first went into Birmingham, it was quite unusual for both a young person and a young woman to be running a football club," Baroness Brady told the Ladies' players.
"For example, women weren't allowed in boardrooms. I remember, I think it was my first away game, where I turned up and there was this steward on the desk. I said, 'Could you tell me where the Boardroom is please?', and he said, 'Oh yeah, directors' wives over there'. 
"I said 'No, I don't think you understand. I am the Managing Director so I need to know where the Boardroom is'.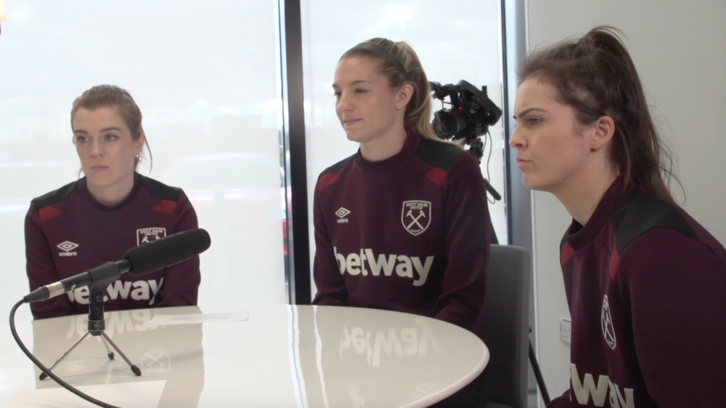 "The steward, he put his glasses on, and he said, 'Oh yes, you're that woman'.
"It was a real case of breaking down barriers and I always say that Boardroom door was the first door that I broke down. I've tried to hold it open for as long as possible to get as many women through that door."
West Ham United Ladies, led by managing director Jack Sullivan and general manager Karen Ray, are enjoying a successful campaign in the FA Women's Premier League Southern Division. The side are unbeaten in 2018 and have reached both the Isthmian League Cup and FA WPL Plate finals. 
An application for a license to play in the restructured Women's Super League from the start of the 2018/19 season is also in place, with FA WSL1 expanding to 14 teams with full-time professional players.