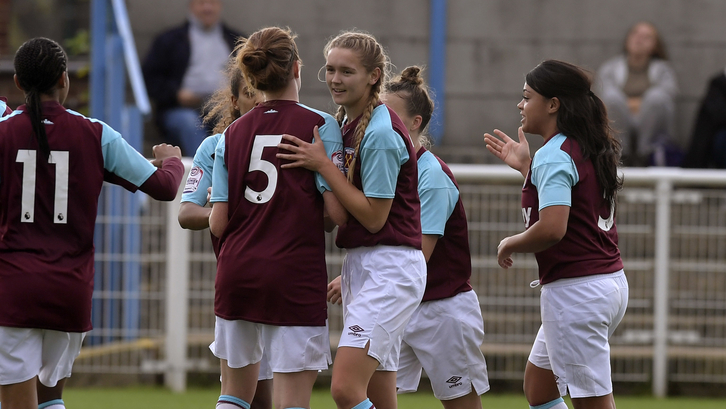 A second-half double for Kelly Wealthall helped West Ham United Ladies secure a deserved place in the WPL Plate final, after a 3-0 win away to Hull City.
A tense first period saw the Irons create chances but fail to capitalise, although Rosie Kmita hit the post and Wealthall saw an effort ruled out for offside.
On the hour mark, the striker got a deserved finish, with Wealthall coolly rounding the goalkeeper and tucking home after a sensational pass by Andria Georgiou.
The forward got her second after some poor Hull defending, slotting into the net from 12 yards, before Georgiou finished the tie on 73 minutes with a stunning strike from distance.
And the win means the Hammers have reached their second cup final this season, with a place in the FA WPL Plate final now in the team's calendar.
It took the Hammers just three minutes to register the first shot of the afternoon. A sensational ball between the lines by Amber Stobbs found Rosie Kmita, but the winger's effort was agonisingly wide of the far post.
Hull City then appealed for a penalty, after Hannah Wheeler's challenge on Hope Knight, but the referee ruled the tackle to be fair, before Ellie Zoepfl drove the Irons into a dangerous area.
Kmita attempted another two efforts from distance and then the No.7 rattled the inside of the woodwork as her corner kick evaded every other player.
Some stellar defending from Leanne Mabey denied Hull the chance to score minutes before the half-time whistle, while the Irons looked to have taken the lead on 43 minutes, only for Kelly Wealthall's effort to be ruled out for offside.
The forward wasn't to be denied however and got a well-taken goal on 60 minutes. Georgiou found Wealthall with an excellent pass into space, and the attacker made no mistake as she rounded the goalkeeper and slotted into the goal.
Only two minutes later, the 16-year-old had her second. Defensive fragilities in the Hull penalty area saw the ball fall for Wealthall, who tucked into the near corner from twelve yards.
Although Wealthall was substituted before getting the chance to score her hat-trick, the attacker played a crucial role in West Ham's third. She held the ball up well and skipped into space, before sending the ball back to Georgiou. From distance, the midfielder powered an effort into the top corner.
West Ham United Ladies: Staunton; Mackie, Wheeler, Austin, Auguste; Mabey (M Kmita 78'), Georgiou, Stobbs; Zoepfl, Wealthall (Peters 78'), R Kmita (Burr 80')
Substitutes: Peters, M Kmita, Lancaster, Burr, Chong
Goals: Wealthall 60' 62', Georgiou 73'
Hull City Ladies: Halloran; Render (Jackson 71'), Cooke, Thompson, Stamp (Jackman 71'), Symington, Beech, Knight, Tanser, Kay, Bell
Substitutes: Pedersen, Ackroyo, Butt, Jackson, Jackman