West Ham Tv
Moyes: Lanzini, training in the snow and a crucial trip to Swansea
David Moyes met with the media on Friday morning, ahead of this weekend's Premier League clash with Swansea City, to preview Saturday's contest.
The manager discussed rumours of a potential new contract for Manuel Lanzini, training in the snowy conditions this week, and Swansea's recent good form under Carlos Carvalhal.
'Overall, the squad is fine'
David Moyes offered a positive team news update for the Swansea City fixture, with only long-term absentees missing from the manager's squad, while Arthur Masuaku also not available due to suspension.
However, it appears Moyes will be able to call on most players for the match in south Wales.
The boss said: "I think we're okay. We've got a few people with knocks and bruises, like all clubs, and a bit of the sniffles here and there, but overall, we are fine."
Snow sessions
The snowy weather has called havoc up and down the country this week, with Moyes admitting the ice and frozen conditions has also had a slight effect on the planned sessions.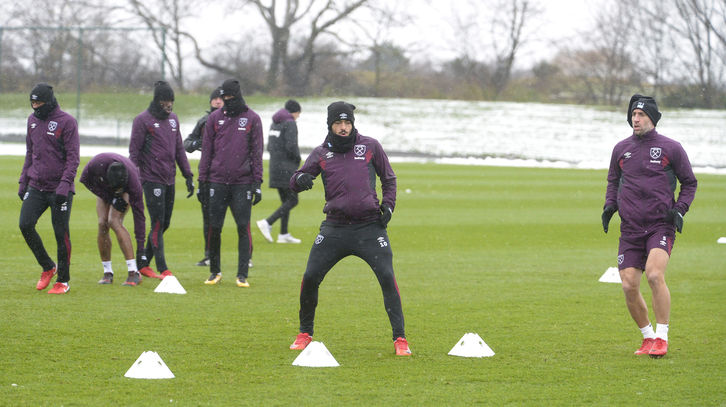 "I'd be lying if I said it didn't," Moyes continued. "We've not got an undersoil heated pitch here, but overall, we've managed.
"We've been outside everyday but it's been really cold. As we well know, everybody has been training in the snow for the last few days, and we're no different."
'We must be mindful of how well Swansea have done'
The Swans have been in decent form heading into this weekend's fixture, losing just once in their last six league matches.
The south Wales club bested Sheffield Wednesday in their last match – in the FA Cup in midweek – and Moyes has been impressed with the confidence he's seen in the Swans.
The Scotsman admitted: "I didn't learn so much from Swansea beating Sheffield Wednesday because they left out several players out who would normally start, but what we've seen from Swansea is that they have improved, there's no doubt about that, and they've gained confidence.
"That's a little bit like ourselves in that they've gained confidence from results and they've had some incredible results against Liverpool and Arsenal. They've got a good record at home so we know we're in for a really difficult game."
Although the Swans are in 18th, and the Hammers are in 13th, only three points separate the two sides, leading to calls that this match is crucial for both teams.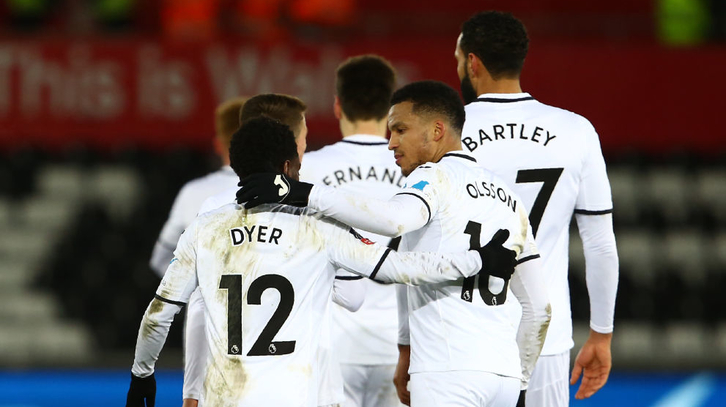 However, Moyes said: "Ever since I came in on day one, every game has seemed to be a big game to be fair. We've handled them well, played well, and picked up some good results.
"But, we've also got to be mindful of how well Swansea have done in the last six to eight weeks. It's a tough game for us as well, going there. We've had some good results away from home and I hope we can continue that.
"It's a really important game for both clubs. We know that another three points gets us closer to the safety point, but we also know that there are other games to come. We all have games to play and every game is going to be built up as really important and the most important one is the next one. It's really important for us to go to Swansea and get something out of the game."
'All teams have a great chance of staying up'
Swansea's form has coincided with the appointment of Carlos Carvalhal, seeing the Swans moving from the foot of the table to having a good chance of remaining in the top flight.
Moyes believes that every side in the Premier League still has a chance of keeping their place, however, and says each team must keep picking up points – something every club will have the chance to do.
"I think that's football," he said, when asked about Swansea's recent form under Carvalhal. "Even at the moment, talking about West Brom being isolated, I think there's enough games still to stay up. All the teams are in with a great chance. All the games will be really important.
"Obviously, your home games will be important. We've got a few home games to come, which we have to try to use to our advantage, but there's also been a lot of draws at the bottom end of the table as well. We know, if we can keep picking up points, we hopefully will find ourselves still a Premier League club next season."
'It's the tightest relegation battle I can remember'
Just eight points separate Stoke City, in 19th in the top flight, from ninth in the Premier League, meaning a win or two could move a team into the top half of the division.
For manager Moyes, this campaign's battle against relegation is one of the closest he can recall, and the boss can see this year's fight running until the end of the season.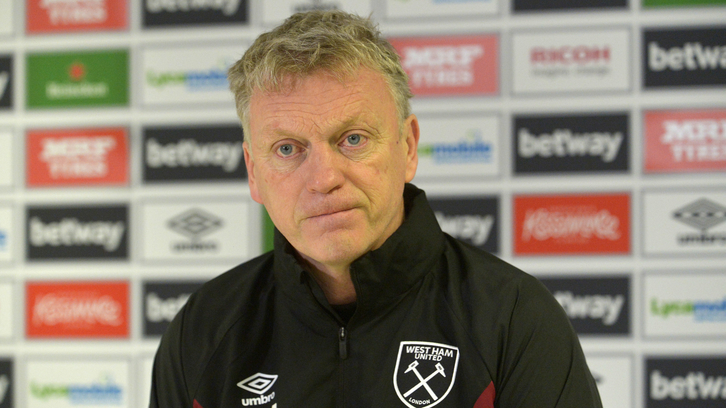 "I think it's been the tightest since I can remember, that's for sure. I think the top of the table is getting further away, but I think the bottom is tightening up, and I don't think anybody can guarantee they will be safe.
"I think the newly promoted clubs coming up come up with momentum – you see that with Huddersfield and Brighton for example, and those clubs coming up make it difficult for other teams as well. There's going to be a fight on and it looks as if it could go close to the very end of the season."
'We want everybody together'
The boss took the time to praise the loyal Claret and Blue supporters for their efforts in getting behind the team since his appointment in November.
"I've got to say, since I've been here, the support has been good. I think they've realised we need their support and their backing, and they've been with the team."
Moyes is eager to see that level of support for his side continue for the rest of the campaign, with the manager knowing how important the fans are to the Club.
He continued: "We want everybody together and I think that to give West Ham the best chance and for us to start competing again and be challenging some of the top teams in the future we need everybody together. I don't know all the grievances of the supporters, but what I do know is that I've really enjoyed the effort they've put in helping us, both away from home and at home.
"I'm going to need them between now and the end of the season – we've got a lot of work to do to make sure we're a Premier League team. The more they get behind us the better."
'You always want to keep your best players'
Reports in the media this week have suggested that the Hammers are keen for Manuel Lanzini to sign a new contract, with discussions allegedly already underway.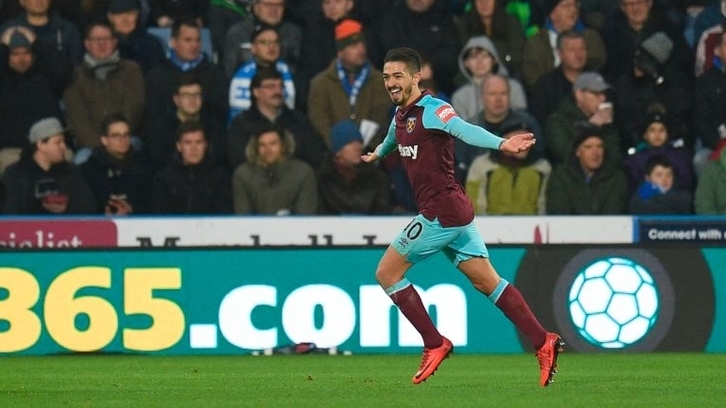 While Moyes described the Argentine – whose good form has earned him an international call-up – as one of the Club's best players, the boss says those discussions have not yet taken place.
"You always want to keep your best players but the truth is, there's no truth in what you are saying. We wouldn't look at it again until we find what league we are in."
VAR's teething problems
Finally, Moyes was asked for his thoughts on the Video Assistant Referee, after further press scrutiny of VAR this week.
The technology was utilised in Tottenham Hotspur's FA Cup match with Rochdale, and Moyes believes the issues are mainly 'teething problems'.
"I didn't see the game but I heard about the incidents and I do think it is teething problems. I do hope we get it. I don't want the game to be stopped for every single decision but every time something goes wrong you're going to be questioning it.
"I do think we talk too much about referees and nearly every decision is brought up. We should be more interested in the football, the style, the players, how the game is played than worrying about the decisions too much."