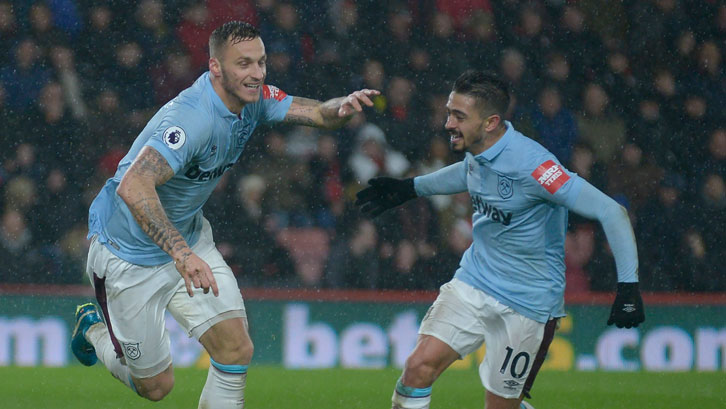 Manuel Lanzini says his promising partnership with Marko Arnautovic reminds him of a 'similar' relationship he enjoyed with Dimitri Payet.
The Argentinian struck up a famous rapport with Frenchman Payet two years ago, combining to provide 22 goals and the same number of assists as West Ham United finished seventh in the Premier League.
In recent months, Lanzini's combinations with Austrian Arnautovic have been comparably fruitful, with the pair registering nine goals and eight assists between them in the Hammers' last 13 Premier League matches.
It's easy to play with Marko because he is a good player, he has a good touch, good mentality and he wants to win the games

Manuel Lanzini
"Our partnership is fantastic," he confirmed. "It's easy to play with Marko because he is a good player, he has a good touch, good mentality and he wants to win the games. He is like me, so it's easy to play with these players.
"We make each other better, of course. We want the same things and we think the same way.
"It's similar to the feeling I had with Dimi before, because they are similar players. If you have a player who plays like you, it's easy. You need to connect and that's it. You touch the ball one way, and he touches the ball the same way."
Lanzini is not only enjoying his partnership with Arnautovic, but is also excited by the range of attacking players available as West Ham approach Saturday's important Premier League fixture at Swansea City.
"We have very good players, top players, players who play for their national teams. Chicharito is an amazing striker and Joao Mario is an amazing football player, so we now need to connect all together and I think we'll have a strong team.
"For me, I don't mind where I play in this team. It is for the coach [David Moyes] to decide and where he decides, I will try my best for the team."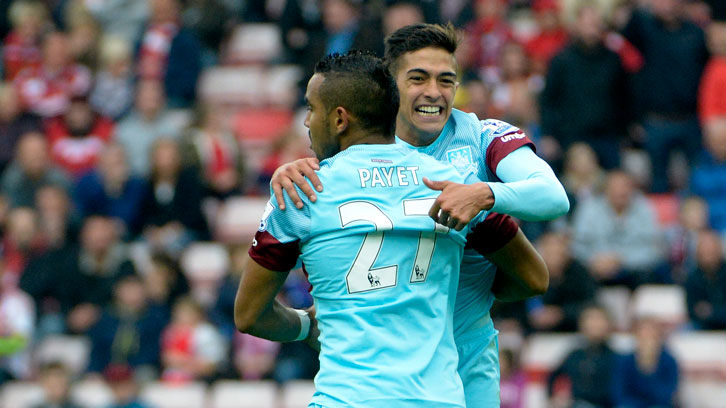 Lanzini returned to action at Liverpool last weekend after a month out with a hamstring injury. With another week of training in his legs, the No10 is determined to stamp his authority on the game at the Liberty Stadium.
"I'm very happy to be back with the team, but I was not happy with the result last Saturday. I want to help the team now.
"I am feeling good. The recovery was very smooth and I think I'm ready to train hard and am 100 per cent fit.
"Of course, I feel a big responsibility to the team, but I want this responsibility and I like it. When you have the number ten shirt on and you are one of the creative players in the team, you need to take this responsibility."
With Lanzini – and Arnautovic – leading from the front, the South American says the Hammers have what it takes to finish the season strongly, but they cannot afford to take their eyes of a resurgent Swansea team for one minute if they want to win in South Wales.
"We need to concentrate first on Swansea, which is a final for us and one we need to win, then we can concentrate on the next game.
"We have started the late few games really well and we need to do the same again at Swansea, score a goal or two, then we need to keep our concentration for the whole 90 minutes.
"If we do this, we have a chance to win."