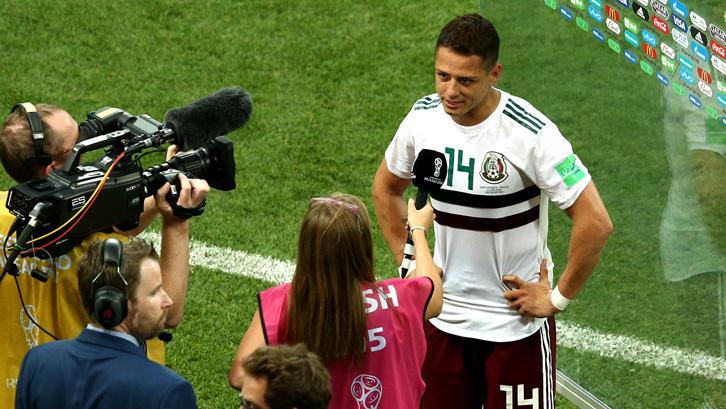 Chicharito has been a talismanic figure for Mexico since making his national team debut in 2009 – and the West Ham United striker has fulfilled that role again to spearhead El Tri's strong start at the 2018 FIFA World Cup finals.
After assisting Hirving Lozano's winner against reigning champions Germany in Mexico's opening Group F fixture, the 30-year-old scored his record-breaking 50th goal for his country to clinch a 2-1 victory over South Korea which secured their passage to the Round of 16 for a seventh consecutive World Cup.
Unsurprisingly, both his teammates and the media have been hugely impressed by Chicharito and his teammates' performances so far, heaping praise on Juan Carlos Osorio's side.
Lozano, who returned the compliment by setting up the Hammer's goal against South Korea, said: "He's really a key player for us. He brings us so much. He works as hard an anybody and sets a great example on and off the pitch. I'm so glad that this time I was able to set him up for a goal."
And midfielder Miguel Layun, who is Chicharito's closest friend in the Mexico squad added: "He's got all these records, but that's not all. He's also a great person, with an impressive mentality. He's very important to the squad, both on and off the pitch. I'm sure he will continue to provide us with goals and bring us great joy.
"He's like a brother to me. He's someone who you can learn a lot from."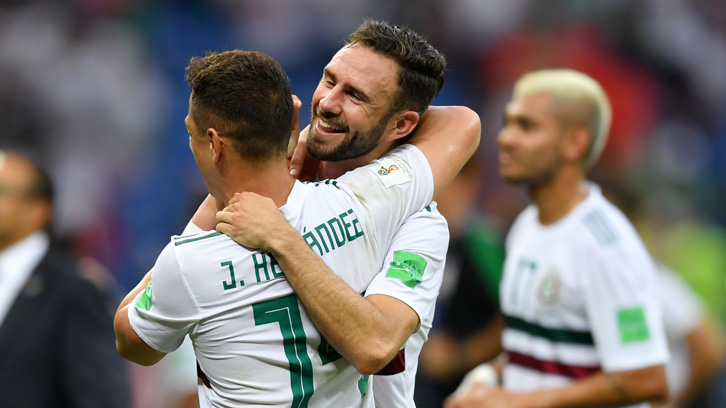 Namesake and former Mexico striker Luis Hernandez says Chicharito's achievements can be compared to that of the most-prolific striker in the country's history, Hugo Sanchez.
"What he's achieving right now will go down in history," said Hernandez, who played at the 1998 and 2002 World Cup finals. "His movement in the area is great and he takes advantage of spaces when losing his markers.
"There is only one [Mexican] player who can be considered one for the ages and that's Hugo Sanchez, but Chicharito is on his way."
In the television studio, former Premier League strikers Kevin Doyle and Clinton Morrison were effusive in their praise while working for Ireland's national broadcaster RTE.
"Chicharito is a good enough striker [to lead the line for Mexico]," said ex-Reading forward Doyle. "He's got 50 goals in 104 appearances, which is a goal every second game and is world-class.
"He gets a bit of criticism from people saying he doesn't hold the ball up or do this or do that, but against Germany and South Korea he was the lone striker, he was holding the ball up, he was running the channels and he scored. Sometimes I don't know what people want!
"He looks fit and he runs all game. He might maybe be missing a yard of pace, but he's got 50 international goals and you can't argue with that record."
He's got 50 goals in 104 appearances, which is a goal every second game and is world-class

Kevin Doyle
Former Birmingham City frontman Morrison was equally impressed, adding: "He went ice-cold in the box and it's a good finish. He doesn't have a lot of pace, but his movement is good, so when he sucks defenders in, he can get in behind.
"Robbie Keane was the same. He didn't have blistering pace, but he was one of the best movers around and that's what Chicharito is like. He's got great movement and that's why he gets so many goals, because he's always on the move in and around the box."
Chicharito also had a more unlikely supporter in the shape of American football star JJ Watt, who he met when Mexico faced Venezuela in Houston in 2016.
The striker, who is also a big fan of the Houston Texans defensive end, received this congratulatory tweet from Watt after scoring his record-setting goal on Saturday afternoon.
¡Felicidades por el número cincuenta mi amigo @CH14_!

— JJ Watt (@JJWatt) June 23, 2018
Chicharito and Mexico face Sweden in their final group-stage fixture in Ekaterinburg on Wednesday afternoon, with a draw seeing them top the group and set up a Round of 16 clash with either Brazil, Serbia or Switzerland.