A limited number of spots on the Academy of Football's first Official Coaching Association session of the 2018/19 season – looking at 'Pre-season at your club' are still available to purchase.
The Association, which will run six sessions over the course of the coming campaign with the first scheduled for the evening of Tuesday 14 August, follows last season's maiden year of the scheme which proved a huge success.
Special guests, including current players Mark Noble, Declan Rice and Josh Cullen, former Hammers and international stars Matt Upson and Paul Konchesky and the FA's Technical Director Dan Ashworth, attended sessions last term with more expected to follow them throughout the course of 2018/19.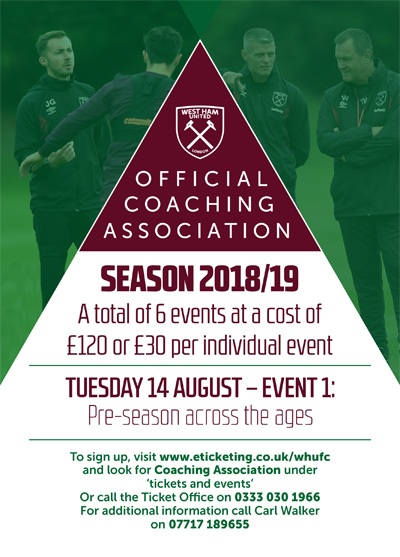 Each session followed the format of valuable Question and Answer time with the guests in question, with a practical session then carried out, allowing the local coaches present time to watch, learn and pick the brains of some of the game's most experienced heads.
With Academy Director Terry Westley introducing and explaining every evening, no stone was left unturned as the fraternity of local coaches looked to broaden their experience.
And similar services – plus much more – will be available over the six 2018/19 nights, an exciting opportunity for anybody who wants to improve themselves as a coach, according to Westley.
He said: "The Association was a huge success last year. This season is now about improving and moving it forwards, and we'll begin by offering six sessions over the course of the campaign, with the plan being to kick-off in August.
"The speakers will once again be important. The ins we have in the game allow us to pick the phone up to the likes of England manager Gareth Southgate and his staff – I can see that communication with the FA improving. We've had Dan Ashworth in; the likes of Aidy Boothroyd, who now manages the U21 national side, would be great to speak for us.
"We will definitely look to have one coach from an overseas club come in, somebody who coaches at a young age to see how academy football abroad differs. We can all learn something there.
"In terms of our own staff too, we know how busy they are, but the new manager and his coaching staff will hopefully give up some of their time to enhance this Association. 
We're all looking forward to what the future holds for the Association."
The opening session of this season's Association – at 6pm on Tuesday 14 August at the Academy's famed Chadwell Heath base – will look at 'What pre-season looks like at your club'.
Coaches wishing to book themselves on all six sessions can now do so for the reduced price of £120 (with individual sessions later available to book onto for £30 per event). Click here to book your spot now.