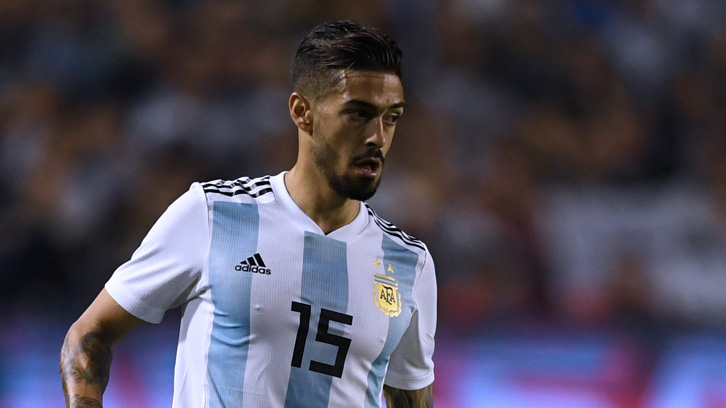 Manuel Lanzini has vowed to remain positive and 'come back as best as possible' after suffering a serious knee injury.
The West Ham United star suffered a suspected torn anterior cruciate ligament in his knee during training with Argentina ahead of the 2018 FIFA World Cup finals.
Lanzini will be joined by the Hammers' new Head of Medical Richard Collinge for a consultation with world-renowned orthopaedic surgeon Dr Ramon Cugat in Barcelona this week.
With 40 years of experience in treating knee injuries, Dr Cugat is considered a pioneer in arthroscopic surgery and has worked with some of football's biggest names during his illustrious career, including Lanzini's compatriot Sergio Aguero and Spain stars Andres Iniesta, Xavi, Cesc Fabregas, David Villa and Fernando Torres.
Despite the shock and disappointment of missing out on the chance to represent his country in Russia, Lanzini says the support he has received from family, friends and national team and clubmates has kept him looking forward, rather than dwelling on the recent past.
I'm receiving support from my family and my teammates and that has been extremely important for me

Manuel Lanzini
"It's an extremely hard moment," said the 25-year-old, who also posted an emotional Instagram message thanking fans for their support. "I pose myself so many questions but I know there are no answers. But I try to see things in a positive light, which was what my parents always told me.
"I'm receiving support from my family and my teammates and that has been extremely important for me because when I had the injury I felt like the world fell over me, it was the worst sensation I felt in these 25 years.
"I will have surgery in Barcelona, Spain, with Ramon Cugat, and I'm going to be very serious in my recovery. It's not a question of how fast I come back but of following the plan and come back as best as possible."
While he is keen to focus on the future, Lanzini did reflect on the incident when his injury occurred.
"I received a pass from Marcos Rojo and tried to give it to Javier Mascherano who was behind me. When I turned, I didn't set my foot firmly on the ground and all my weight fell on my knee. I knew instantly that it was going to be very bad."
While he will be unable to play himself, the No10 has expressed his total support for Jorge Sampaoli's in their quest to win a third FIFA World Cup.
"Everyone on the national team helped me. They made me feel as if nothing had happened. Their support was awesome. All the messages that they sent me were incredible to me."