Rosie Kmita is ready to test herself in the FA Women's Super League after becoming the first player to agree professional terms with West Ham United Ladies. 
The winger, who served as captain last season, has agreed a contract with the Hammers after helping the side to lift the Goodmove.co.uk Women's Cup and the FA WPL Plate last season. 
"To be able to call myself a professional footballer is what dreams are made of," Kmita told West Ham TV.  "It's the absolute top of the list. It's unbelievable. 2018 has been incredible for all of us, but now it's a new chapter and a new journey. It's a big challenge and I'm looking forward to it. 
"Growing up, when you're playing, to play at the highest level possible and go professional is something that you always thought could only be a hobby. It's something you can only dream of and I'm over the moon!"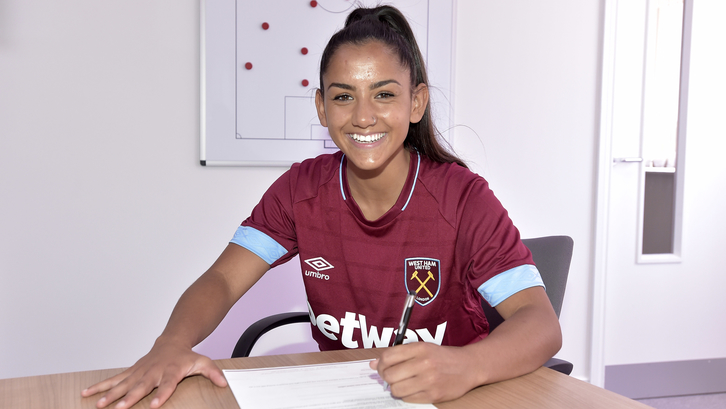 Kmita, who scored ten goals in the FA Premier League Southern Division and the FA WPL Plate last season, says her decision to remain with West Ham was down to the incredible feeling she gets from being at the club.
She continued: "I always base a lot of my decisions on how I feel. How I feel in the environment, the people and the players. Ever since I got here the feeling I've had has been nothing but positive. It's an environment that I know I can thrive in and I can be the best version of me. That's why I love West Ham."
The 24-year-old knows the challenge that awaits her as she steps into professional football for the first time, and is eager to learn what she can in her first season as a full-time player.
"The main thing is how much you can learn," Kmita reasoned. "I will try my best to listen in and take in what I can. The WSL is going to be a challenge in all aspects of the game. 
"For me as an individual it's a massive challenge. It's a big jump but being around this club and the players I'm going to be with, I know I'm only going to thrive in that environment. A challenge is always good!"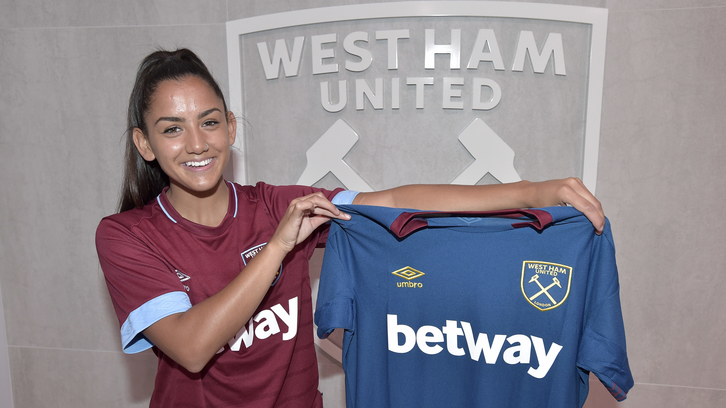 Kmita's new deal with the Hammers comes just a few days after Matt Beard became the Ladies' new head coach, and the forward is impressed with the work the Women's Super League-winning coach has been putting in already. 
Kmita added: "I got the chance to sit down with the new head coach and meet him properly for the first time. It was a really good first impression. He's made me feel really comfortable. 
"He's been analysing our games and we had a chat about that, and what he's seen from me last season; certain things we can work on from the clips that he's seen. It's nice that he has faith in you as a player. It's not just from the opinions of others that he's taken me on, which is nice to know. It's exciting and I'm looking forward to working under him."
Season Tickets for West Ham United Ladies' first campaign in the FA Women's Super League are on sale now!
You can follow the Ladies' journey into the WSL in person from just £15! Follow the link here for more information!