West Ham United supporters flocked to the club store in Basildon to meet legends Tony Cottee and Carlton Cole on Saturday at a signing event in celebration of the launch of the 2018/19 home and away kits. 
Fans began queuing in the early hours of Saturday morning for the chance to take photos with and receive autographs from the two former Hammers forwards, who played for the club for a combined 17 seasons 
For Cottee, who grew up a loyal West Ham supporter, Saturday's chance to meet other fans was a humbling experience. 
"I love days like this," Cottee told West Ham TV. "I get to meet a lot of fans and give something back with Carlton today, while celebrating the launch of the new kit. 
"First of all, I am a fan. I'm not a West Ham player who became a fan, I'm a West Ham fan who became a player. It's nice to give something back and it's always humbling when you meet people who want to talk about the good old days and what you tried to do for the club."
I love days like this. I get to meet a lot of fans and give something back while celebrating the launch of the new kit. 

Tony Cottee
The 52-year-old, who scored 146 goals for the Irons over two spells, also gave the new kits the thumbs up. 
Cottee added: "I've just seen the new kits up close for the first time and it's really nice. It slightly reminds me of the kit that the boys of '86 wore. 
"It looks really nice and it probably looks a lot better on the youngsters than it would on me these days!"
Cottee's fellow former striker Cole was also thrilled to interact with the Club's loyal followers at Saturday's event.
"I'm happy as Larry to still be involved in things like this," Cole said. "To get to rub shoulders with legends like Tony and see the fans, it's just amazing.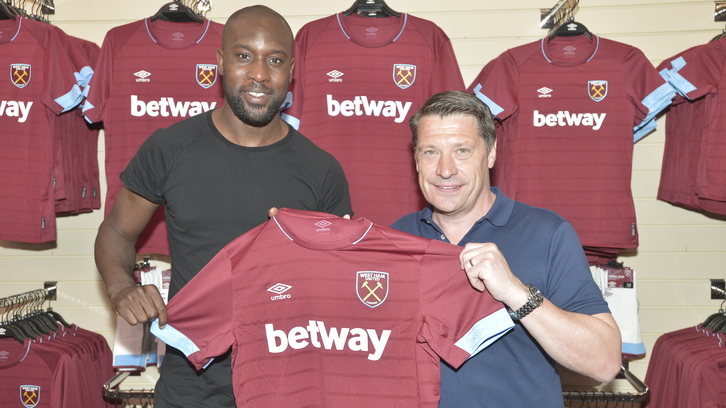 "It's a bit overwhelming to be honest because, I knew we were popular, but I didn't know this many people would turn out. We are here launching the new kit today and I'm just happy to be involved."
Cole added his endorsement for the new West Ham kits, continuing: "I've said it before, I love the quality of the shirt, the texture of it, and the blue on the claret. I've heard some really good reviews and I have to say I agree with them."
Fans Jayne and Jordan Samler were two of the first people to meet Cole and Cottee at the Basildon store, having queued from Saturday morning for the opportunity.
Jayne said: "We arrived at 9am today to see Tony Cottee and Carlton Cole. I love Tony! It was a dream to meet him. It's brilliant when stuff like this is on."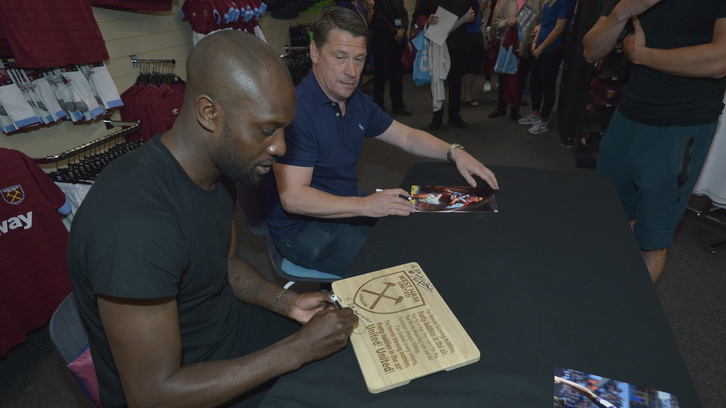 Her son Jordan added: "I feel like I'm ten-years-old again, running over to get autographs. It's brilliant. 
"I like the new kit. It's a nice feel and I like the 'Irons' on the back. It's different and it's new. I really like it."
Get your hands on the new West Ham United 2018/19 home and away kits now at any of our four Official Stores - London Stadium, Lakeside Thurrock, Liberty Romford or Basildon Eastgate, and officialwesthamstore.com.