London Stadium
Champions Place stone installation underway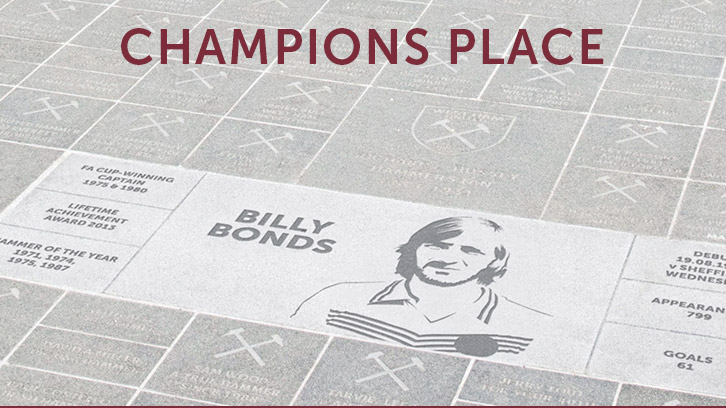 Hundreds of Hammers will become a permanent part of West Ham United history when their Champions Place stones are installed over the next few weeks.
Champions Place provides a lasting tribute to those supporters, players and managers, past and present, who have made West Ham a club loved and respected across the world.
The new specially-engraved granite stones will be installed alongside those already in place at the north-east corner of London Stadium on Queen Elizabeth Olympic Park.
Among them will be stones honouring West Ham legends Ken Brown and Ronnie Boyce
Brown is the only player to have won the 1958 Second Division title, 1964 FA Cup and 1965 European Cup Winners' Cup, was crowned Hammer of the Year and capped by England in 1959 and received the club's Lifetime Achievement Award in May this year.
Boyce, who was born in East Ham, graduated from the Academy of Football and scored the winning goal in the 1964 FA Cup final, securing the first major trophy in the club's history. The midfielder returned to Wembley the following year, when he was part of the side which won the European Cup Winners' Cup. After retiring, he became an important member of the coaching staff which won the FA Cup again in both 1975 and 1980.
Thousands of Champions Place stones, many of them inscribed with personalised messages, have already been installed on the unique walkway at the Hammers' home on Queen Elizabeth Olympic Park, and this latest installation phase is expected to be completed by Friday 17 August.
When the installation is complete, the stones will be catalogued and supporters will be sent confirmation of their exact location via email by Friday 31 August.
Should you have any queries regarding Champions Place, please do not hesitate to contact us at supporterservices@westhamunited.co.uk
Personalised stones for future installation phases are available to order from just £60, giving you the chance to have your own permanent presence at London Stadium, or purchase a unique Hammers gift for a family member or friend.
To take your place in history, visit championsplace.whufc.com