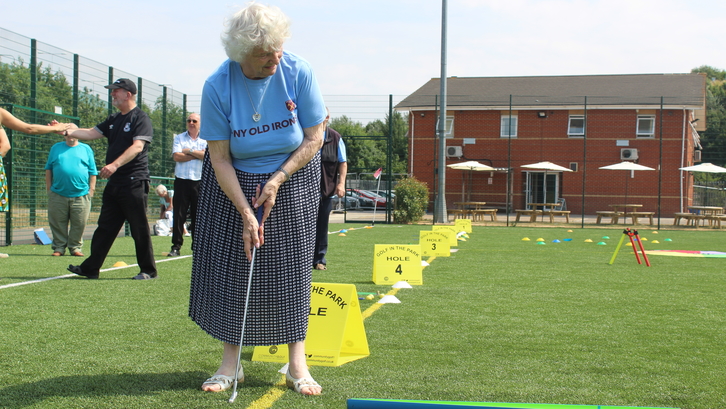 West Ham United Foundation's Any Old Irons have gotten their hands on a very different type of iron after participating in a 'Golf Fun Day'.
The West Ham United Foundation and Friends of the Elderly run programme brings elderly residents across Newham and Tower Hamlets together to participate in activities and fight loneliness. 
And, in the week where West Ham supporter Francesco Molinari won The Open, The Foundation teamed up with Community Golf told hold a highly successful 'Golf Fun Day' at the Beckton 3G pitch.
Twenty-four participants took part in a variety of golf challenges based on distance, targets and accuracy. All challenges were done as part of teams, which allowed the competitiveness to really show.
"It was great fun to do something a bit different that allowed the competitiveness and banter to come out. You could see that everybody was having a laugh and enjoying get out somewhere that wasn't in the Working Mens Club" said competitors Betty O'Donnell, Alf Ford and Brian Hams. 
It's great to see so many happy faces and it shows how important activities like this are for bringing people together.

Stephen Camacho
Stephen Camacho of Friends of the Elderly said "It's great to see so many happy faces and it shows how important activities like this are for bringing people together.
"It was competitive - I didn't expect anything else with our Any Old Irons - and everyone was able to take part in the no barriers physical activity"
The NHS are now beginning to refer golf as exercise to help the elderly, which is designed as an incentive to encourage inactive people at risk of chronic illnesses, to improve both their physical and mental health.
There have been some great results with participants claiming a rise in happiness and life satisfaction – something which was mirrored in the reaction of the Any Old Irons members. 
Any Old Irons is a programme to combat loneliness in the elderly, by encouraging members to meet every other week and make new friends. As well as meeting at the East Ham Working Mens Club they also have the opportunity to try new experiences, such as stadium tours, boat trips and having members of West Ham United teams, both past and present coming to attend sessions. 
"Any Old Irons is such a heart-warming programme in which you can constantly see how much of a difference it is making to people's lives, we've had long lost friends reunited and even expanded the programmes reach" explained Health Manager, Maria Abraham. 
If you are over 65 and are interested, or know someone who might be, give Friends of the Elderly a call on 0330 332 1110 or email [email protected]