West Ham United Ladies will now be known as West Ham United women's team.
As the Hammers prepare to kick-off their debut season as a fully-professional team in FA Women's Super League, the name change reflects West Ham United's position as a leading and forward-thinking club within the sport.
What's more, it's representative of a modern view on language and equality and is in keeping with the way the sport's governing bodies, supporters, squad and management regard the women's game.
West Ham United Vice-Chairman Karren Brady welcomed the name change, saying: "We believe this is an important step forward in the evolution of our club, confirming the inclusion, equality and togetherness which make West Ham United so special.
"West Ham United's women's team have already made huge advances in 2018, being granted FA Women's Super League status, becoming a full-time professional team, recruiting top-class players and staff and developing outstanding facilities at Rush Green.
"We are hugely excited about what the future holds for West Ham United's women's team and the name change is just another important and progressive step as we embark on a new era in women's football."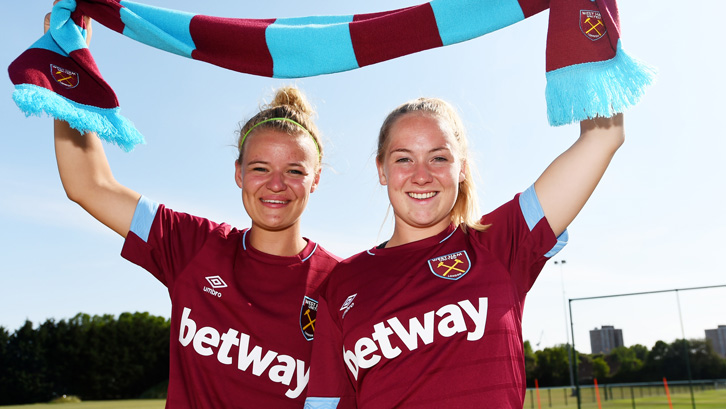 West Ham United Women general manager Karen Ray said the change will see the club move away from consistently referring to the men's team as the 'first' team, acknowledging the ever-growing status of women's football, and West Ham within it.
"This name change signifies the start of a new era for West Ham United Football Club, underlining the ever-growing status of the women's game and where it stands within professional clubs," said Ray. "This change is a clear signal of our togetherness and is in keeping with the club's passionate stance on equality. It is vital that we continue to honour our predecessors during our evolution but feel that this is the perfect time for change.
"Becoming a Women's Super League team has been a remarkably important and progressive step for everyone at the club and as we embark on the next chapter of our history in women's football we feel that this is the perfect opportunity for us to celebrate with the reinvention of West Ham United's women's team.
"With a new league, a new infrastructure, a new facility and new attitudes toward women's football it feels that there is no better time to make the shift and align with the modern-day language. As a club, we want to empower the resilient, focused and inspirational athletes who represent the club, past, present and future."
West Ham United Ladies were formed in 1991 and quickly rose through local leagues to reach the FA Women's Premier League in 2004.
Since then, the team has lifted a number of trophies, culminating in the dual successes of the FA Women's Premier League Plate and Isthmian Women's Cup earlier this year.
Under the guidance of managing director Jack Sullivan and general manager Karen Ray, West Ham United were granted FA Women's Super League status in May 2018.
The Club also operates a successful junior section, agreeing a landmark partnership with Barking Abbey School Specialist Sports College to host the Club's Academy from the beginning of the 2018/19 season, providing the most promising young players with access to a structured programme of high-level training, fixtures, academic courses and qualifications and, to the very best, a pathway to the Women's Super League.