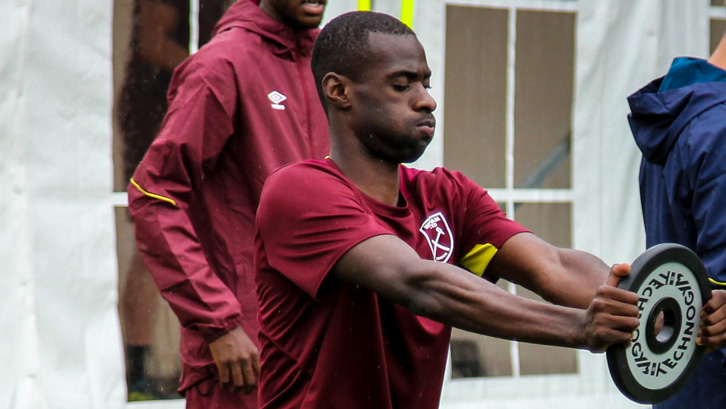 After a frustrating season last time out, Pedro Obiang wants to play an 'influential' role for West Ham United in 2018/19.
The Spanish midfielder featured regularly during the opening half of the last campaign, scoring important Premier League goals against Huddersfield Town and Tottenham Hotspur.
However, a challenge during the Hammers' FA Cup fourth-round defeat at Wigan Athletic at the end of January left the 25-year-old nursing a serious knee injury that ruled him out for almost the entire remainder of the season.
Now, after a summer spent working on his fitness at Rush Green, Obiang is ready to return to action and is determined to make his mark under new manager Manuel Pellegrini.
"I always try to be influential," he confirmed. "I think every player in the squad tries to give one thing to the team and mine is probably to stop the other team and start our attacks, and I try to improve this every day.
"For the team to have balance is important. We have players who have to score, a goalkeeper who has to save and defenders who have to defend, so everybody has to do his best in his position and I try to improve in mine."
While his self-stated aim is to stop the other team from scoring, Obiang does sometimes venture far enough forward to hit the back of the net himself – most famously at Wembley in January, when he belted an unstoppable 35-yard Goal of the Season past Tottenham goalkeeper Hugo Lloris.
Now he is fit and firing again, the midfielder is targeting a repeat!
"If this happened, it would be even better!" he smiled. "You can imagine how difficult it is when you're out and you see your teammates struggling, you want to be with them. It's not the same, because when you're out you can be close, but not that close.
"Now I'm coming back and I'll try to be in a better mood, be happy, positive and close to my level and arrive to the level of the guys as quickly as possible.
"We have a lot of good things to do good things this season, so we have to keep that mentality and try to do something more."
We have a lot of good things to do good things this season

Pedro Obiang
Two of those 'good things' Obiang was referring to were Lukasz Fabianski and Ryan Fredericks, who will challenge his Spanish-speaking friends Adrian and Pablo Zabaleta for the goalkeeper and right-back positions respectively.
"They are all coming to put my friends in a difficult position!" he joked. "But no, that is always good in the team, because it's always better to have competition.
"If you don't have competition, it's because you're not good enough. If you do have it, it's good and we always have to find competition with other guys, if they are young or old, and that is helping us.
"Of course, I'd prefer to see my friends play, but this is a team and the best player in each position has to play."
When that position is deep-lying midfielder, Obiang himself is undoubtedly aiming to be the best.