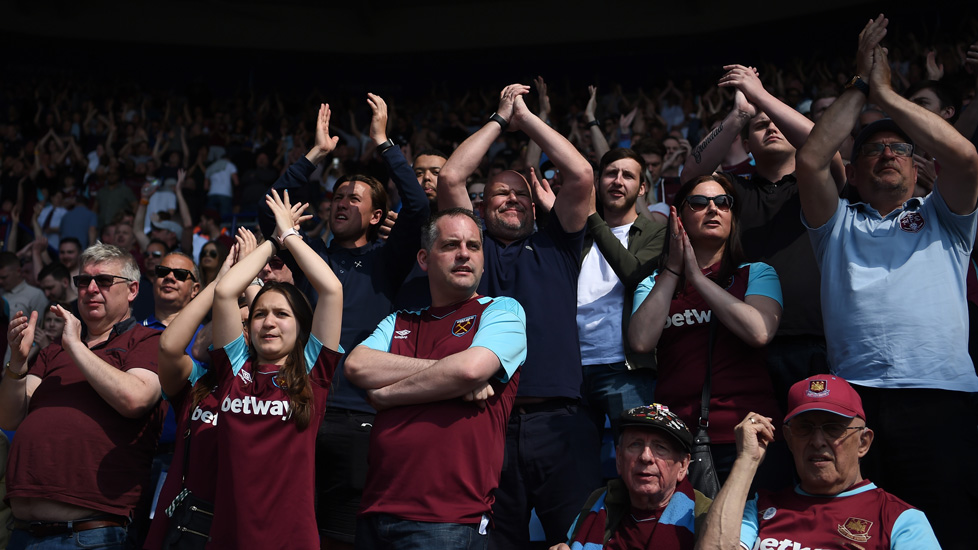 As the start of the 2018/19 season approaches, West Ham United would like to update supporters on the process for ticket sales for away matches.
Following a successful trial period last season, where 10 percent of away tickets were made available to a wider audience on a four match trial, the Club have reviewed this process for the new campaign, with supporter feedback central to this.
To allow more of the Claret & Blue army to follow the Club at home and away, 90 percent of tickets will still be available exclusively to Bondholders and supporters with Priority Points, in descending order of points accumulated, before the final 10 percent are made available in a ballot to Season Ticket Holders who have not yet purchased tickets for that fixture.
As per previous seasons, purchase windows for Season Ticket Holders with Priority Points will be announced in advance of the sale dates.
When 90 percent of tickets have been sold for a fixture, the game will go off sale, with a ballot opening at 11am the following day for those Season Ticket Holders who have not yet purchased.  Supporters will be able to enter the ballot at www.eticketing.co.uk/whufc
The ballot will be open for 24 hours, and supporters can enter the ballot in groups. After the ballot has closed, confirmation emails will be sent to those who are successful and payment will be taken at that point.
Should tickets still remain at that point, the ballot will be reopened to allow Claret Members to apply.
Supporters should note that entering the ballot does not guarantee a ticket. Supporters can apply in groups of up to six in size. Those who have already purchased for that match will not be able to enter the ballot.
One Priority Point is gained for every away match and home cup match attended over the current and previous seasons. For 2018/19, this means points gained in 2017/18 and 2018/19 will be valid.  With this in mind, all Priority Points gained in the 2016/17 season will be removed from supporters' accounts in the upcoming days.
We thank our loyal supporters for their travel and backing of the team across the country and we will shortly be announcing the sales windows for our first away match of the new season at Liverpool.