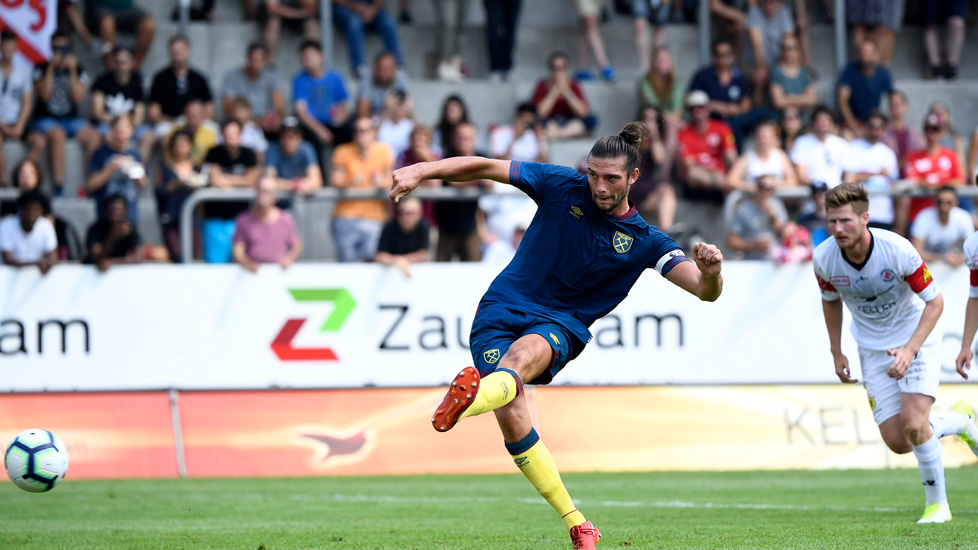 West Ham United's new Head of Medical Richard Collinge has provided an update as the first-team squad prepare to wrap up their pre-season training camp in Switzerland.
Manuel Pellegrini and his new backroom staff have spent the past 10 days getting to know the players and, with hard work and physical preparation the key factor, Collinge has enjoyed a busy and intensive start to life with the Hammers.
"All in all, the training camp has been a very productive one and the players have responded very well to the programme that has been scheduled for the first phase of pre-season," he says.
"We have had a variety of physical work, either side of the opening warm-up match against FC Winterthur on Sunday, with every session planned meticulously and the rest and recovery between training also monitored carefully.
"The new players have settled in very well. Jack Wilshere has obviously been with us for just a few days and so has followed a slightly different programme, but he will step things up next week.
"We have also welcomed back Marko Arnautovic during the trip, and Michail Antonio has been taking part in full training with the rest of the squad so generally things have been going well."
Unfortunately, it is not all good news on the injury front, with both Andy Carroll and Winston Reid having to return early to London after suffering setbacks in their respective recoveries from injury, which will keep the pair out for a minimum of three months each.
Collinge said: "Andy played and scored in Sunday's match but is still reporting some discomfort in his ankle and further scans have revealed that he requires some minor surgery to provide more strength and stability to the area.
"Winston has been suffering some swelling around the knee, following the injury that he sustained at Swansea last season, and he too is in need of explorative surgery to clean up the area. We have decided that this is the best course of action to ensure that both players have a chance of returning to full fitness as soon as possible."
Manager Manuel Pellegrini said: "We are obviously very sad to hear that Andy and Winston have suffered setbacks. This is a big blow for them and us, but we hope to see them back in action as soon as possible.
"It does mean that we have lost two players in key areas, though, and we'll continue to work hard with the owners to make further additions to strengthen the playing squad, beyond the five new signings already confirmed."
On a more positive note, Manuel Lanzini is making good early progress in his rehabilitation following the knee injury sustained while on international duty with Argentina prior to the World Cup, and is due to return to London shortly to meet up with his team-mates and continue his recovery with the Club's medical staff.