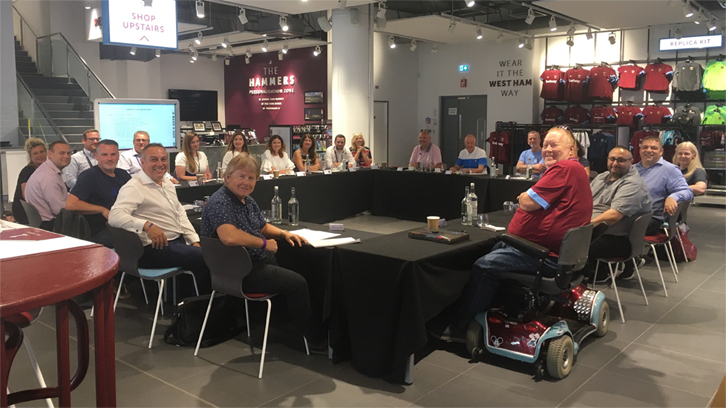 West Ham United met with the Supporter Advisory Board at London Stadium on Thursday night ahead of the new season.
As part of the Club's commitment to regular dialogue with our loyal supporters, representatives from the Club's wide and diverse fanbase sat down with Vice-Chairman Karren Brady and members of the senior management team for a positive meeting focusing on the key issues.
Among the items discussed were the recent improvements to the look-and-feel of London Stadium, the Club's positive engagement with the families of those with loved ones laid to rest at the Memorial Garden at the Boleyn Ground and the continuing plans for enhanced fan engagement in 2018/19.
The Club have been taking feedback throughout the summer from the SAB as to evolving supporter consultation going into the new season with the view to making it more accessible, democratic and relevant as we enter the first season under Manuel Pellegrini.
As well as the feedback from the SAB, the Club is in dialogue with third-party organisations, including Football Supporters Federation, Supporters Direct, the Premier League, to execute best practice and evolve the process, of which the first proposals were presented and positively received by supporters.
In addition, SAB members asked questions on a variety of themes including ticketing, retail, the matchday experience in 2018/19 and London Stadium-related topics.
The Club worked together with supporters on a whole range of subjects last season, including concourse facilities, Supporter Liaison Officers and the Bobby Moore commemoration plans on the 25th anniversary of his passing.
Further improvements and enhancements will continue to be made next season as part of our ongoing commitment to the overall matchday experience at London Stadium.
Full minutes from the SAB meeting will be available on whufc.com in due course.