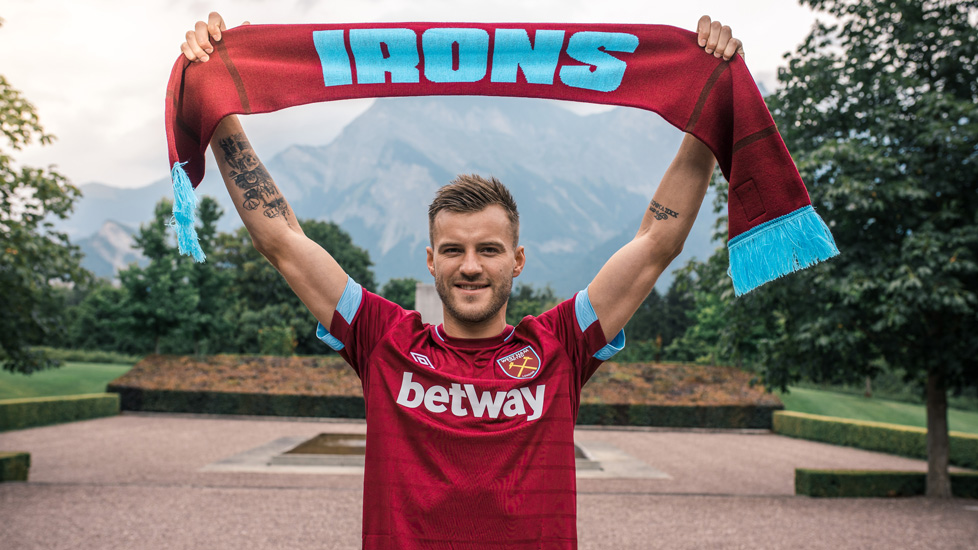 Football writer Michael Yokhin charts Andriy Yarmolenko's journey from 
Back in 2006, Anatoly Demyanenko was really excited. One of the Dynamo Kiev greats of the 80s, who served as the assistant coach at the time, declared to the press: 'Our scouts have found a lad who is already called the second Andriy Shevchenko'.
Demyanenko was talking about Andriy Yarmolenko, and that was music to ears of the 17-year-old who had always dreamt of emulating his role model. Yarmolenko grew up idolising Shevchenko, and it is only natural that he was thought to be capable of  becoming the heir to the throne. 
Sheva is by far the greatest player Ukraine have had since the breakup of the Soviet Union. The new West Ham star arguably comes second on the list, and his popularity knows no bounds.
Shevchenko is the top scorer for the national team with 48 goals in 111 appearances, but Yarmolenko is second, and his ratio is actually even better, with 35 goals in 76 games so far. He was privileged to share the dressing room with Sheva at Dynamo between 2009 and 2012, after the striker returned home to Kiev from Milan, and Yarmolenko was heavily linked to a possible transfer to AC Milan, as the Rossoneri aspired to make him a key signing, please the fans who dearly missed Sheva and give him the No7 jersey.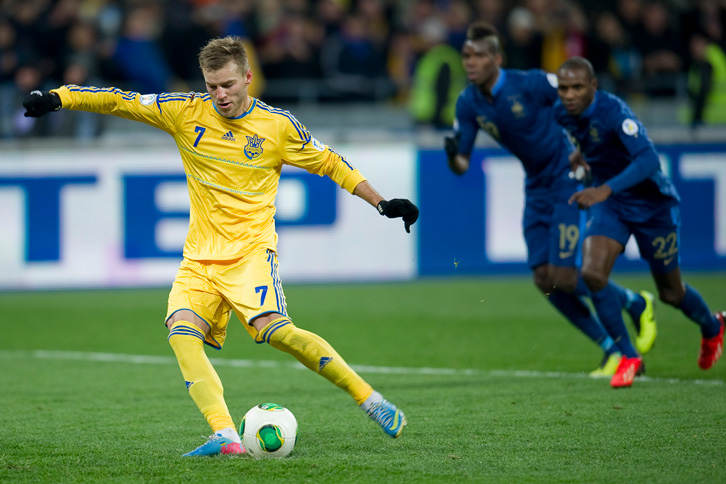 The move was on the cards even though Yarmolenko had never played in Shevchenko's position. He is not a striker, but rather a versatile attacking midfielder, mostly used on the right wing, but also capable of starring on the left and as a playmaker. 
In the beginning of his career, when the youngster was criticized for selfishness and wastefulness in front of goal, he was even tried as a left-back. At one point, the pressure seemed to be too high, and Yarmolenko became infamous in Ukraine for stating that he is "not a footballer" after refusing to give an interview and being told that it is part of his job as a professional player. Lessons were learned, however, and Yarmolenko worked tirelessly on his skills and character in order to become a top star.
Those efforts included improving his weaker foot. Naturally left-footed, Yarmolenko is especially dangerous when cutting inside from the right flank, somewhat reminiscent of Arjen Robben's famous move, but his right foot is decent as well following countless training sessions. 
As years went by, he became calmer and more dedicated, and grew into one of the leaders. In fact, his dedication to Dynamo was so strong that the proposed moves abroad didn't materialize.
Yarmolenko was widely expected to move to the San Siro after the Euro 2012 campaign on home soil alongside Shevchenko, where he provided a magnificent assist to the legendary forward in the 2-1 win over Sweden. However, Dynamo president Ihor Surkis refused to sell the star, and – with countless rumours continuing to be published in the press during every single transfer window – he eventually remained in Kiev for five more years. In 2016, just before becoming a free agent, Yarmolenko even signed a new long term contract with the club, stunning every observer.
Some saw that as lack of ambition, especially because the Ukrainian league had become siginificantly weaker in recent years due to political problems in the country. Those assumptions were not necessarily correct. Yarmolenko just wanted to give the club that raised him an opportunity to receive a good transfer fee, and that should be appreciated.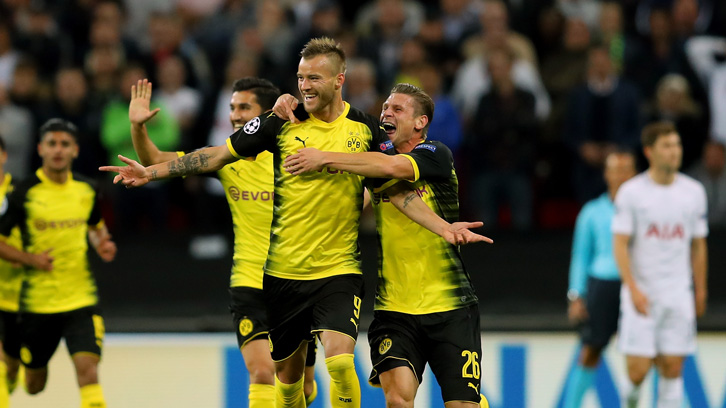 The star had proved his point when moving to Borussia Dortmund in the summer of 2017 for €25million when Surkis finally fulfilled his promise to make Yarmolenko's dream of playing for a top team possible. At the age of 27, a new life had begun.
During a decade at Dynamo, Yarmolenko won three championship titles and lifted the Ukrainian Cup two times. He was also crowned at the league's top scorer in his last season in 2016/17, and that was especially significant because he overcame Shevchenko on the list of the club's all-time top scorers. With 137 career goals to his name in the Kiev shirt, only Oleg Blokhin, Serhiy Rebrov and Maksim Shatskikh are ahead of him.
At the start of his new adventure, Yarmolenko delighted the fans with quality performances on the wing, scoring a goal and providing no less than four assists in his first four Bundesliga matches, while netting on his Champions League debut for BVB at Tottenham as well. However, the team experienced a loss of form, the coach Peter Bosz was fired, and then the Ukrainian suffered an unfortunate injury in the beginning of 2018. 
Winning his place in the starting lineup back after recovering proved to be impossible, and now West Ham offer Yarmolenko an opportunity to shine in the Premier League. His skills, including magnificent dribbling at speed and dead ball exprertise, could reminds fans of Dimitri Payet, but the Ukrainian could compare himself to his idol again. 
Shevchenko's time at Chelsea wasn't successful, but now there is a new Andriy in the capital. Would Yarmolenko better Sheva (and Rebrov as well) on his way to becoming the most successful Ukrainian in the Premier League?