West Ham United Ladies are delighted to announce the signing of goalkeeper Anna Moorhouse from Arsenal.
Moorhouse joins the Club after spending the Spring Series and the 2017/18 Women's Super League campaign with the Gunners, making nine appearances.
"I'm really happy to be at West Ham," Moorhouse told whufc.com. "I'm so glad the move has gone smoothly. This is the club I really want to be at, so it's all really good."
General manager Karen Ray is delighted to bring in the young yet experienced goalkeeper in to the West Ham side, sighting her experience as a valuable resource for the Irons.
I'm so glad the move has gone smoothly. This is the club I really want to be at, so it's all really good. 

Anna Moorhouse
Ray said: "Anna brings a wealth of professionalism and experience having played at Arsenal, one of the most decorated women's football teams in England. The team will not only benefit from her height and distribution, but her determination to consistently develop in a competitive and exciting environment. 
"I speak on behalf of everyone at the club when I say how happy we are to have secured the signing of Anna and we look forward to supporting her new journey as a Hammer."
Originally starting her professional career with Everton Ladies, Moorhouse moved to Durham. After spending a season with the Wildcats, the 23-year-old headed to the Keepmoat Stadium to join up with Doncaster Rovers Belles.
Arsenal were impressed by the young goalkeeper and she transferred to the Gunners ahead of the Spring Series. Moorhouse spent just over year with Arsenal before linking up with her new teammates in east London.
Moorhouse has cited the Club's ambition ahead of the new Women's Super League season as one of the key reasons she joined the Irons.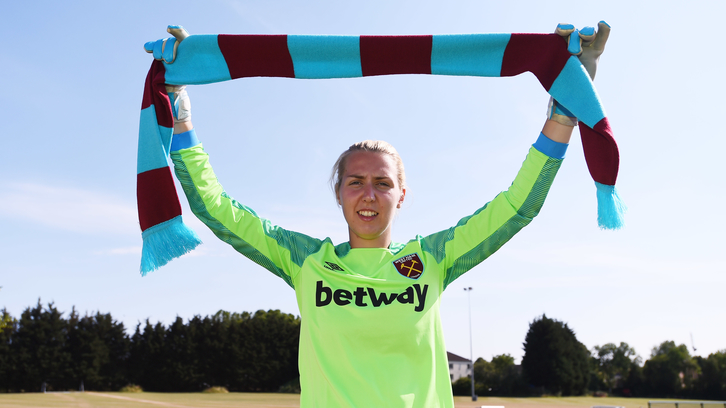 Moorhouse said: "It's a club that has got a lot of plans, a lot of ambition and I like that. They've got the infrastructure in place and it's a good time to be at the club.
"It's a fresh start for everyone. Matt (Beard) has come in and said everyone is on a level field, everyone can play, and everyone's got a chance. It's just something that appealed to me straight off."
With Becky Spencer joining from Chelsea earlier in June, Moorhouse becomes the second goalkeeper to sign for the Irons this summer.
Now with first-team places up for grabs in the new side, Moorhouse is looking forward to the competition she'll have with Spencer for the number one shirt.
"You've got to have that relationship, you've got to be competitive with each other, you've got to push each other. At the end of the day there's one shirt on the pitch and there's one shirt on the bench, it'll be good competition. I'll give everything. I've been waiting a long time."
Having spent two years in north London, the 23-year-old is hoping to implement her playing style in to her new side.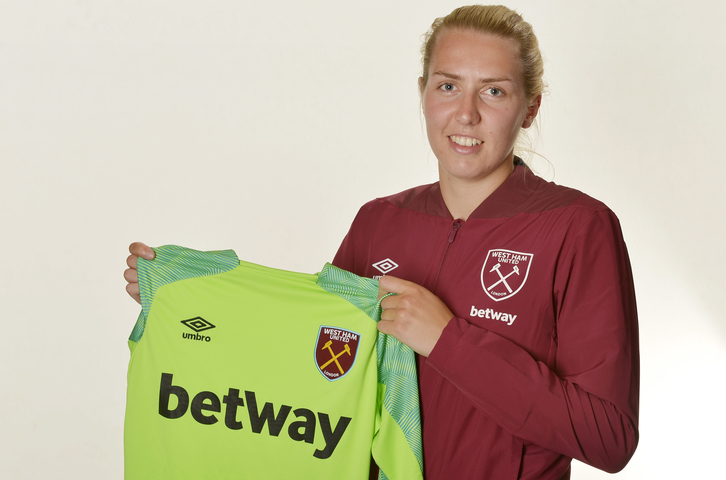 "I like to play with my feet, I like it when defenders trust me to play with my feet. I like to play with my feet, save shots and just be a keeper.
Moorhouse went on to describe her personality on the pitch: "I'm quite relaxed, if they've (the defenders) done something, they'll know about it, but I'm quite relaxed in that aspect. I'm not going to scream my head off at them, but if it needs to be done, it needs to be done."
With pre-season now well under way for the Hammers for their first season in the WSL, Moorhouse spoke about the team's early plans.
"The first thing is to settle in with the girls, we're a new group. I think we're gelling quite well at the moment, we just need time to settle in and we can go from there."
Season Tickets for West Ham United Ladies' first season in the Women's Super League are now on sale, starting from just £15!
Come and enjoy the top tier of the Ladies game at Rush Green with the Hammers this season. Pick up your season ticket from the link here!