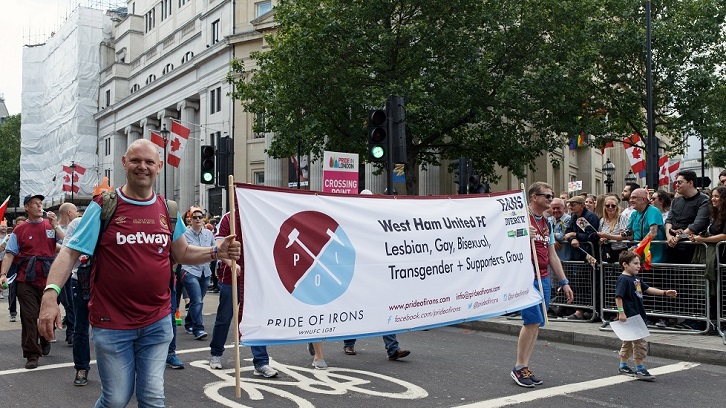 The Pride of Irons Supporters' Group will once again live up to their name this Saturday when they take part in the Pride in London Parade.
The group, which represents and supports West Ham United's LGBT+ fans, will be among the tens of thousands of people proudly marching through the centre of the capital on Saturday afternoon.
Ninety Hammers supporters will represent the group at the Parade, where they will be joined by mascot Hammerhead and Supporter Liaison Officers (SLOs).
The centrepiece of their involvement this year will be the Pride of Irons and West Ham-branded open-top bus which will go through the streets along the Parade route.
Pride of Irons Co-Chair Carol Hinvest is delighted for Pride of Irons to be taking part in the event once again.
She said: "The theme for this year's parade is Pride Matters. Although the UK has moved a long way forward on equal rights, there's still a way to go for full equality. Pride of Irons was set up as a meeting point for West Ham LGBT supporters, and we've been really encouraged by the support that we've received from other fans and from the club.
"There will be almost 100 of us in the parade this year, and as well as our own members we're thrilled to be joined by representatives of some of the other West Ham Supporters' Clubs as well as Club staff.
"You won't be able to miss us, because Hammerhead will be showing off his dance moves again and we'll have an open-top bus bedecked in Claret and Blue."
For more information about Pride of Irons, click here or follow the Supporters' Club on Twitter here.
For details about Saturday's 2018 Pride in London Parade, click here.