A few decades ago, many professional footballers would arrive back for pre-season training a few kilograms heavier than they had left at the end of the previous campaign.
The first few days of the new season would mean running endless miles in a bid to rid themselves of the weight they had put on and improve the fitness levels which had dropped over the previous few weeks.
Those days are long gone, with today's Premier League players being given individual plans programmes to ensure they are in shape when they meet up to prepare for the season ahead.
For Aaron Cresswell, that meant swapping the beach for the gym four days a week over the last month, working to ensure he was in optimum shape, but the defender has no complaints whatsoever.
We've had a chance to recharge the batteries and now it's come around again and we're ready to go again

Aaron Cresswell
"The programme we got was pretty similar to the one we get every year," he explained. "The first two or three weeks, we let the body rest and recover, then the three or four weeks before we come back, we have a programme to follow.
"I got in the gym three or four times a week and had a go to try and come back in the best shape possible and, to be fair, I don't think it is like it used to be with lads coming back overweight. Now, everyone is coming back in good nick. We had the testing on the first day, so it's been good.
"The summer always seems to go so quick! We've had a chance to recharge the batteries and now it's come around again and we're ready to go again.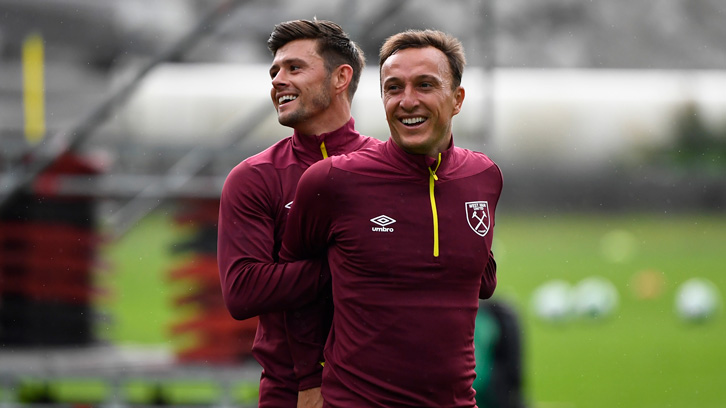 "I've recently had a little baby [son Sonny] so we took a family holiday to Dubai with my family and Jess's family.
"It was a little bit too hot, but it was good to get some down-time and the World Cup was on as well, so it was good to get a few games in as well!"
While Cresswell is relishing the hard work he will undoubtedly do over the next few weeks, he is also enjoying being back with the teammates and friends he has shared a dressing room with for the past four seasons – the likes of captain Mark Noble, Andy Carroll and Winston Reid, among others.
"It's similar to that, going back to school, and it's always like that because we haven't seen each other for six or seven weeks.
"We've now met up for two weeks and flown out to Switzerland and we won't see our families or friends for the next 12 days, so we'll talk about what we did over the summer and get together again.
"We've got a new manager now, so all the lads have come back with a chance to impress him. We've got 12 days over here so let's crack on!"