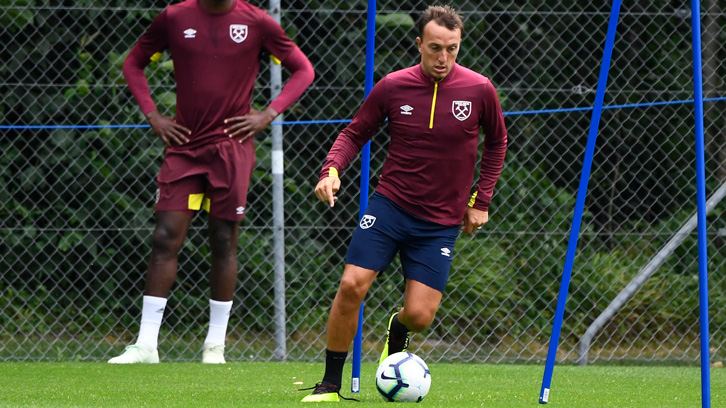 Mark Noble may be 31 now and kicking-off his 15th season as a West Ham United player, but he still has the hunger of a teenager.
The Hammers captain is feeling fit and fresh after an enjoyable and relaxing summer with family and friends but, after a six-week break, was ready to return to the pitch for pre-season training in Switzerland.
Noble and his teammates are in the spa town of Bad Ragaz, where they are getting down to work under Manuel Pellegrini and his staff – and the skipper is determined to make his mark.
I think you should show an example to the younger lads that you can still do it and still compete at that level. That's what I've always done

Mark Noble
"It is good to be back and, to be honest, I feel really good for the break," he told whufc.com. "Obviously, we had six weeks off, and it's nice, mentally and physically, to be able to shut down for a while.
"The last couple of weeks when you're away, you look forward to getting back to the banter in the changing room and having a laugh with the lads and feeling that chest burn of hard work that comes with pre-season."
"To be honest, I feel like, with the way football clubs are now, these are the sort of places that a Premier League club should be coming to. I can assure you that you want to get up in the morning, you want to go to the pitch and work and you want to be around the lads and you want to be here.
"The food's great, the hotel is fantastic, so it makes that whole experience of the pain that you go through daily with fitness that much better, as you're in such a nice place."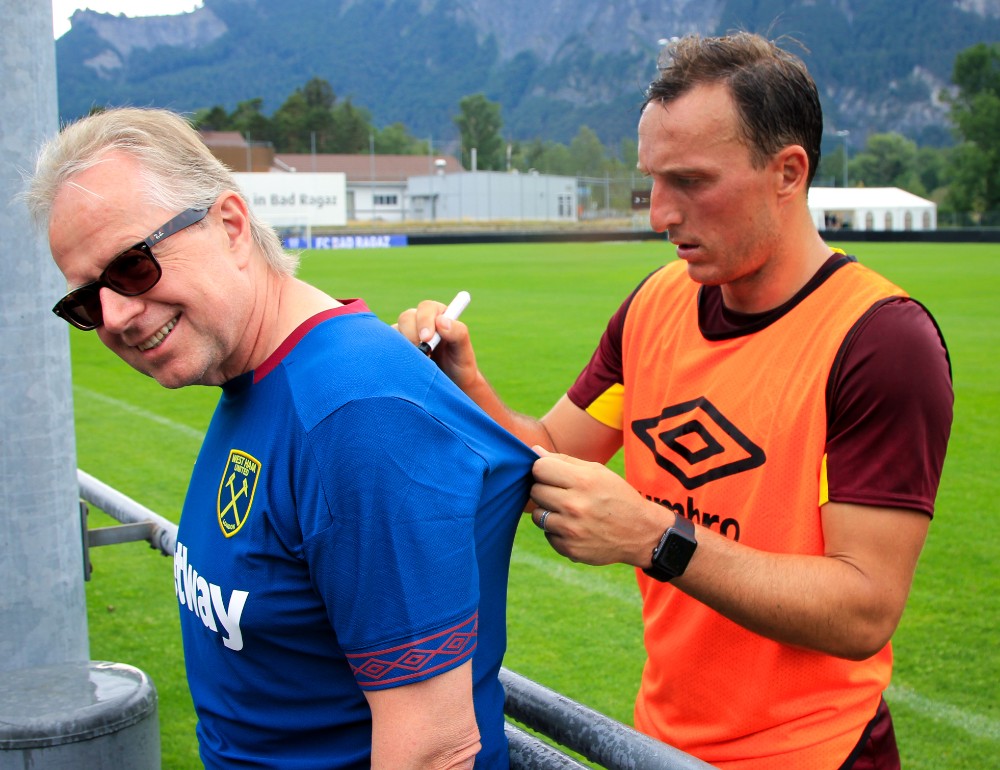 Unlike some older players, after well over 300 Premier League appearances, Noble has lost none of his enthusiasm for the game, instead stating his intention to lead by example, particularly to the younger professionals who have travelled to Bad Ragaz.
"I've found that, the older you get, the harder you have to work. Probably a lot of people feel it's the other way and think 'I'm older now, I need a couple of days off' but I think you should show an example to the younger lads that you can still do it and still compete at that level. That's what I've always done.
"I'm 31 now and I still feel like I'm 18 or 19 in my head. Obviously, I know I'm not physically, but I feel, definitely the last three or four months of last season, that I thoroughly enjoyed my football."
With a new manager, new staff and new players in place and more signings set to arrive before the Premier League kicks-off in August, Noble says he is both excited and optimistic about what 2018/19 could bring.
"I do feel excited, but I feel this way every season!" he smiled. "Listen, there were some points of last season which were the hardest of my career and some points of last season which were fantastic and I loved every minute of it.
"But if I went into every season and it was easy, then I probably wouldn't enjoy it any more. I enjoy the fight and in some sick way I probably enjoy the grief we get a little bit.
"As everyone knows, I feel pretty much similar to what the West Ham fans feel. I hate it when we lose, I love it when we win, my mood changes when we lose or win, so I'm hoping we win a lot more this season."