The West Ham United first-team squad were scanned and tested thoroughly on their return to Rush Green for preseason training.
The Hammers, bar FIFA World Cup participants Chicharito, Lukasz Fabianski and Cheikhou Kouyate, the injured Manuel Lanzini, and Marko Arnautovic and Toni Martinez, whose 2017/18 season only ended in mid-June, underwent a series of examinations under the guidance of Head of Medical Richard Collinge.
The data collected on the first day of preseason will provide reference points for Collinge and his staff to measure against during the course of the 2018/19 campaign.
I have to say it's very impressive so far. Everybody looks to be in good shape

Head of Medical Richard Collinge
"It's a busy morning for us on our first day back as, prior to going to Switzerland, we want to screen all the players to give us some good baseline data," he explained.
"We have cardiac screening where basically we will look at an ultrasound of the heart to see how it functions and carry out an ECG (Electrocardiogram) to make sure the rhythm of the heart is as it should be.
"The doctors will be taking blood tests and they will go off to the labs for screening, just to make sure the players are fit and well and healthy.
"I've been doing some musculoskeletal screening using a device to measure the range motion in the hips and ankle joints and the flexibility of muscle groups.
"There are also weight and body fat measurements being taken and the guys are also doing some mobility work, preparation work and jump testing as well, looking at the power production effects of the muscles.
"The whole idea is that we collect some good baseline data that we can reflect on over the course of the season."
Collinge said the players had maintained a base level of fitness over the summer and returned in good shape ahead of an intensive 12-day preseason training camp in Switzerland.
"I have to say it's very impressive so far. Gone are the days when the guys could go away for six weeks and do nothing.
"We're expecting them to come back with a good baseline level of fitness, so they've had programmes to go away with to provide them with that and it's so far, so good.
"Everybody looks to be in good shape."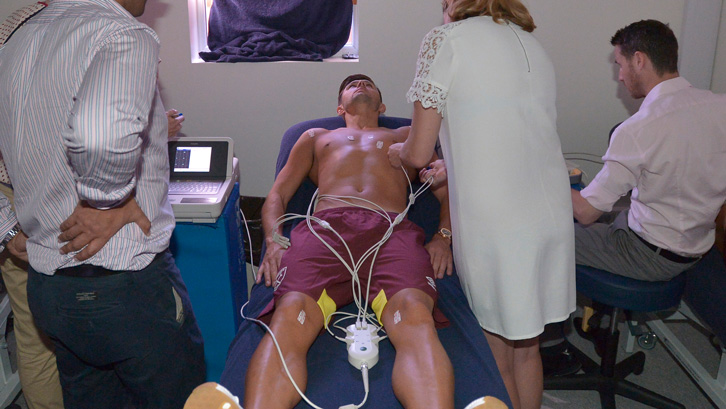 Collinge concluded by explaining the benefits of spending the next fortnight in the Swiss Alps, where manager Manuel Pellegrini and his staff will have time to work with and get to know their newly-inherited squad.
"There are obviously physiological benefits of going away to a different country, but for me and, I'm sure, for the new manager and the coaching staff, it's a new staff and players need to be integrated as well, so it's a team bonding exercise as much as anything.
"Of course we have conditioning work and good recovery work we need to do on the pitch and in the gym, but at this stage it's about bonding the group as well."