David Moyes thought his team showed fight in the face of adversity to pick up a valuable point against Crystal Palace on Tuesday night.
The Hammers went into the game with an absentee list that would stretch any Premier League squad, but they rose to the challenge to come back from a goal down thanks to Mark Noble's 50th for the Club.
The skipper's penalty cancelled out a header from Christian Benteke and extended the hosts' unbeaten league run to six games, with Moyes happy to claim the share of the spoils.
Joao Mario made his full debut less than a week after signing and his performance was another plus point for the boss.
He explained: "I was pleased with the point, because of the amount of players we had out tonight and they were key players too.
"Crystal Palace, apart from ourselves, are probably the form team outside the top five or six at the moment, so I have to say it was a good result. Roy Hodgson might think the same at the end, and overall I'm really pleased with the players.
"Every club has injuries, some worse than the others, but it's a chance for other players to show what they can do.
"We're in the transfer window now, we've brought in Joao Mario and I think he played really well tonight. He's settled in really quickly, which is always a worry when you bring in players from abroad, but he looked a talented player tonight.
"He looks like he's good all-round. He helped us play better, he set up one or two chances and he handled the ball well. He was important to us.
Crystal Palace, apart from ourselves, are probably the form team outside the top five or six at the moment, so I have to say it was a good result.

David Moyes
"The injuries have definitely put a bigger onus on us [to make additions] because at the start of January we needed to add a couple of players to the squad if we could do. With the injuries we picked up in the two games prior to tonight, that's left us short and we're trying to do something about it.
"You want to bring players in who can help and make a difference. Thankfully tonight Joao Mario was one of them and helped in making that difference.
"We're working round the clock, we've got one or two things on the go which if things go well we will bring them in. Obviously if it doesn't then we won't."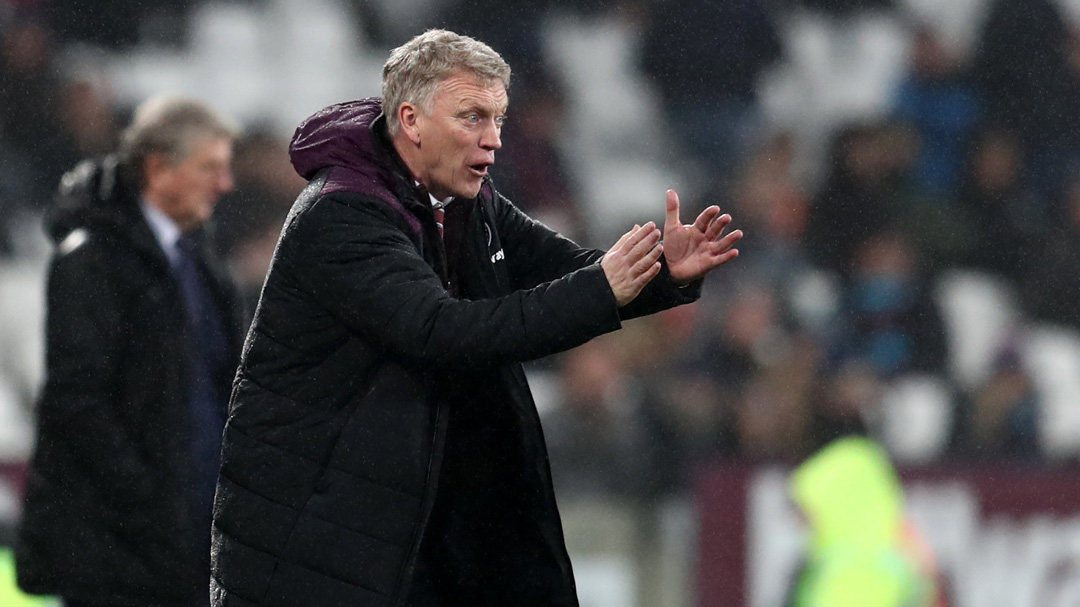 Moyes revealed that he did have one player close to returning to the squad on Tuesday, but he declined to pick Michail Antonio despite him being fit enough for selction.
He said: "It was for disciplinary reasons he wasn't involved tonight. He turned up late for a meeting this morning and it wasn't the first time. I'm not having it at the Club. I've said right from the start what it's going to be like.
"I didn't involve him tonight, otherwise I would have probably tried to get him on the bench. He's taken it very well, he's been in to apologise and because of that we move on.
"He'll be back training tomorrow morning, on time, and he has a good chance of being in the squad on Saturday. He's short of fitness and in truth a few more days of training will do him no harm, although he would have been a big help for us tonight because we had very few alternatives."
Overall, though, the boss was happy to claim another point which helps his team continue to move in the right direction.
He added: "We're picking up the points and moving away from the wrong end of the table. I think it will be tight for the teams in the bottom half of the table, the games will be tight too and I don't think there's an awful lot between the teams.
"You can go on a run, or go on a bad run and it can quickly change. We've shown that we've picked up and we're playing better in terms of performances. We're passing the ball better than we have done and we're playing with a bit more confidence than when I first came in.
"Hopefully that will help us pick up the points. Obviously three points is better than one, but when you're playing against the teams around you, you don't want them picking up the extra two points."